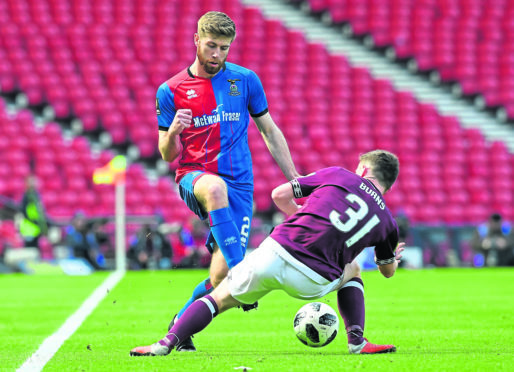 Caley Thistle defender Shaun Rooney is determined to do his mother proud.
Rooney was given a period of leave by Inverness after his mother Elizabeth died from cancer on July 18 – just two days short of her 25th wedding anniversary with the right back's father Thomas.
The Caley Jags defender has since returned to start the last three league matches and says his cherished memories of his mother have made him even more driven to succeed in his career.
Rooney said: "While my mum was still alive, she said would always keep fighting and I said I would try to fight for her as well — I would get myself fitter and she would get herself fitter.
"The two of us made an agreement.
"Obviously, things didn't work out with my mum, but she's always watching down on me. I always try to make her proud.
"It was a hard time for me and a hard time for my dad. When I go down the road, mum isn't there any more and she was a big part of my life.
"She did everything for me — she cooked, did my ironing, my washing – I don't think my bedsheets up here have been washed since.
"Everything she did was for the house and for the family. I couldn't have asked for a better mum to bring me up.
"Everything I do will be for her in my life now. I'm happy with that."
Rooney, 23, credits Caley Jags and his former club Queen of the South with helping him through such a difficult time at a young age, with the defender having also been sidelined due to an ankle injury at the time.
He said: "I had a lot of support from the club and my team-mates. I got time off when mum passed away and it meant a lot.
"Obviously I was injured at the time as well so I couldn't do much.
"I just wanted to get back. Sitting about the house wasn't nice with too much time to think. You obviously do want to have your own time, but I was just by myself in the house greeting away.
"I went in to Queen of the South when I was down the road and they were happy to take me and get some ankle work done, and some strengthening.
"It has worked — I did a lot of good fitness work down there as well. Queens were a credit.
"I'm just very grateful to my team-mates, the manager and club for the time off and to Scot Gardiner for coming down to the funeral."
Inverness are likely to ring the changes when they host Morton in the Tunnock's Caramel Wafer Challenge Cup today, with the Highlanders fresh from defeating the Greenock outfit 5-0 on league duty last weekend.
Rooney added: "Knowing what David Hopkin is like, they will be looking for revenge.
"We want to win the tie. If we work harder than them, the result should come. It shouldn't bother us making changes."