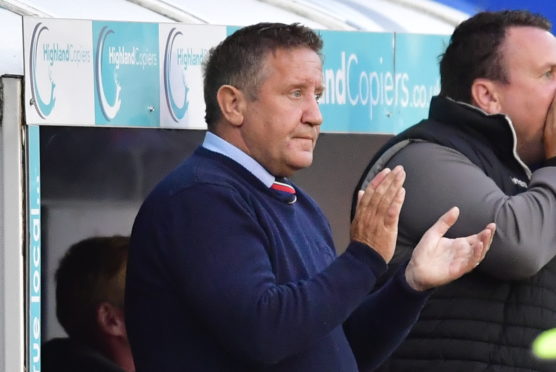 Caley Thistle manager John Robertson says the size of his budget will not affect his drive to keep the Highlanders challenging for promotion to the Premiership.
Inverness have called an extraordinary general meeting for October 3 to update shareholders on their plans to tackle the financial challenges of life in the Championship, with the club hoping to attract fresh additions to the boardroom.
Robertson returned to Caledonian Stadium for a second stint as manager following the club's relegation from the top flight in 2017, and has since overseen a vast scaling down of Caley Jags' playing budget.
Robertson is determined to meet the challenge of getting the best out of his squad irrespective of the resources afforded to him.
He said: "The budget is what it is. The club and directors give me what they can afford. It is no different to being given £5,000 to buy a car. Once you know what you've got, you know what you can afford to buy and go out and get the best for that money.
"If my budget was £200,000 more it would help. If it was £200,000 less, it doesn't make any difference.
"My job is to get the best possible players I can to the club for the money that's available.
"It is one of the challenges of being the Inverness manager and one I don't mind meeting full on.
"Every manager in the world would love a wee bit extra, but that's never been the motivation for me. The motivation for me is to go out and find the best players I can for the money, and then work on them to make them better.
"We work on them in coaching to make them better, work on their technical skills, their fitness and their tactical knowledge. Over the years, I think I've done a reasonable job of it."
After missing out on promotion to the Premiership through the play-offs last term, Inverness have made a fine start to the new campaign and sit just two points adrift of the summit.
Robertson sees no reason why Inverness should not aim to reinstate their place among Scottish football's elite, adding: "We're not, by Scottish football standards, a big club. We've done exceptionally well to get to the Premiership in the first place and even better to stay there for so long.
"If you look around Scottish football, we're probably in the division the size of the club and crowds would dictate.
"But as a manager you can't think that way. Are we as big a club as Hamilton? Yes. Are we as big a club as Livingston? Yes. They're in the Premiership.
"As a manager, I want my players to think about playing at the top level. That's the only thing we get involved in."