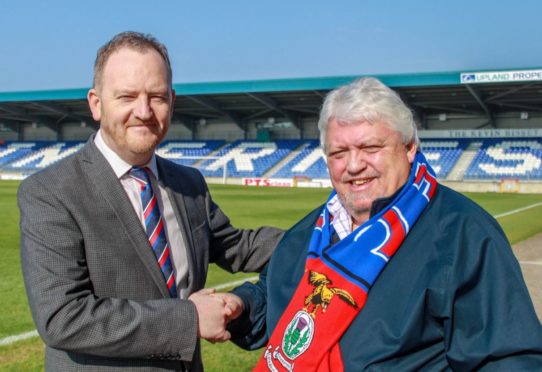 Outgoing Caley Thistle chairman Graham Rae should be appreciated for his financial contribution to the club, according to Inverness chief executive Scot Gardiner.
Rae yesterday stepped down from his role along with director Alan McPhee, with vice-chairman Ross Morrison stepping up to replace Rae with immediate effect.
Having joined the board in May 2017 Rae was appointed chairman just three months later following Willie Finlayson's short-lived tenure, in the wake of the club's relegation from the Premiership. McPhee had been Caley Jags' longest-serving director, having served on the board since January 2015.
Rae and McPhee were both founder members of the 11-strong Muirfield Mills group of Invernessians, who have invested nearly £1.1 million into the club since 2012.
The group have now indicated they will not invest further in the club however, with Rae and McPhee resigning to make way for new investors ahead of the extraordinary general meeting which the club have called for next Thursday.
Gardiner feels Rae deserves credit for taking on the responsibility at a time when the club was forced to meet the financial challenges of Championship football.
Gardiner said: "I spoke with Graham yesterday morning, when he said an emotional goodbye to the staff.
"He has done over two years as a chairman in the Championship which is hard, I can assure you. I've only worked with Graham for a few months, but I can only take my hat off to someone who has put his heart and soul, and his money in.
"As far as the club is concerned, we have got to be appreciative. Apart from the fellow members of the group, the man personally has put a lot of his own cash in to help the club.
"People always have opinions and views on boards and directors, but they don't always realise they put a lot of personal money into the football club. People should be appreciative of that. Graham and Alan McPhee both did that."
Incoming chairman Morrison has a background in finance and property development, and previously worked with the club's community development team.
Morrison takes on the chairmanship of a club which assumed ownership of Caledonian Stadium during Rae's tenure, having previously leased the ground from Tulloch Homes.
Attention will now turn to next Thursday's EGM for shareholders, where the club are hopeful of securing fresh investment and new additions to the boardroom.
Gardiner added: "This is not in any way hostile. Graham has left of his own volition to let other people come in.
"This Championship is very difficult, and we now need to be able to step up the game, step up our investment, and give John the best chance to get promoted."