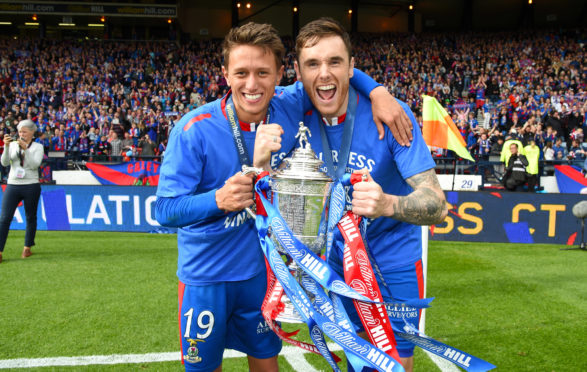 Greg Tansey's retirement has given him plenty of time to reflect. There was only one place to start.
That Caley Thistle side that Tansey was an integral part of, in a two-man midfield alongside the towering Ross Draper, took the club to heights it had never known before.
Winning the 2015 Scottish Cup with a 2-1 win over Falkirk and making the Europa League for the first time was mesmeric, for a club who had only been in existence 21 years.
The year prior, with John Hughes three months into the job, they delivered one of the great cup performances of recent years. Down to nine men and 2-1 behind to Hearts, they upturned expectations, equalising in stoppage-time and going through to their first major final on penalties.
"Back then, we never knew when we were down. We went down to nine men in the semi-final against Hearts and still got the job done. Even if you were getting beat 2-0, I never felt the lads would throw the towel in at any point. It was a great bunch of lads and a special dressing room and I just hope, in the future, they get a similar dressing room to the one we had. It was just a brilliant place to be around."
Hughes had a talismanic effect on the team in a short space of time. He transformed the club's style of play, from the direct-but-effective approach used by Terry Butcher, into a slick and attractive unit.
"I've been speaking to John Hughes a lot. I told him a few weeks ago it (retirement) was on my mind. He's been brilliant over the last two years, constantly checking how I am. You don't normally get that from a manager. I always respect him for that and he's someone I'll always confide in.
"Any player who played at Inverness at the same time I did or played under him will tell you the same; he makes you a better player, simple as that, and it baffles me he still hasn't got a job.
"At the Scottish Cup final, I remember him saying 'take all this in', because you might not get there again. In the back of your head, though, you're thinking you will be there again. It still feels like yesterday, being on the bus to the game, the butterflies. It was different. I was speaking to David Raven about and he said it might be a good idea to get us all together again.
"If you look at the team we had in the 2014-15 season when we won the cup, if you put that side out now I still think we're finishing in the top three. That season, we probably could have finished second. We drew a lot of home games and if we had turned a couple of them into wins, it would have taken it right to the wire."
It was then Tansey first got to know Graeme Shinnie, who later became his team-mate and landlord at Aberdeen.
Reflecting back now on the team of that time, it is remarkable to think of the talent assembled in one squad. In that same side was Ryan Christie, arguably Scottish football's most in-form player, and Marley Watkins a regular in the English Championship with Barnsley, Norwich and now Bristol City.
"I was renting Graeme's house off him when he moved to Aberdeen – I think he was just happy for my custom! Fair play to him, he's kicked on and turned himself into a first-class midfielder. He hasn't got a move to Derby for nothing. He's been one of the top players in the Scottish Premiership for a number of years.
"When I was with him, he was the top left-back in the league. I'm not even going to think of anyone else. Himself and Ryan Christie were on a different level. I had Ross Draper alongside me and he's a dream to play with. He could mix it up, he's powerful – he had everything. On his day, he's one of the best in the league at what he does.
"We had Billy Mckay as well, who was a top goalscorer, a natural finisher. At the back we had Gary Warren and Josh Meekings; I know Josh had his injury problems but for me, he could have gone down and played in the English Championship. I hope he gets back from his injuries because he's a top player.
"With that bunch of lads, we'd achieved something the club had never achieved before. We'd took it somewhere it had never gone before. Working with Yogi (John Hughes), Carl Tremarco, Iain Vigurs, Ross Draper, Richie Foran, Aaron Doran, Ryan Christie, (Graeme) Shinnie, Marley Watkins, Gary Warren – the list goes on. I don't think any of us will ever forget it.
"I feel they'll get promoted this year. There's still a lot of good men there and I wish them all the best."
Memories abound, from a time when a team hit its halcyon peak, flirting with the top of the table before eventually finishing third and securing European qualification for the first time.
"Everyone has bad times, where you've got to dig in. That's the difference between players that achieve something in the game or fall by the wayside.
"It could have been better – who knows, if I'd stayed injury-free at Aberdeen. But that's gone now. I've had a League Cup final – I think that penalty is still going up now. I don't know where the runners-up medal has gone, I think I launched it that day.
"Making my debut at Stockport is obviously a good memory, but they're predominantly all from my time at Inverness. My debut, the League Cup semi-final against Hearts – that's probably my favourite goal. The semi-final against Celtic was off the charts and then winning the Scottish Cup and playing in Europe.
"It was the time when we broke the mould from what the club usually achieved – that group of lads took it on to another level. It was just a brilliant time to be Inverness and I feel very lucky to have been there at the time."