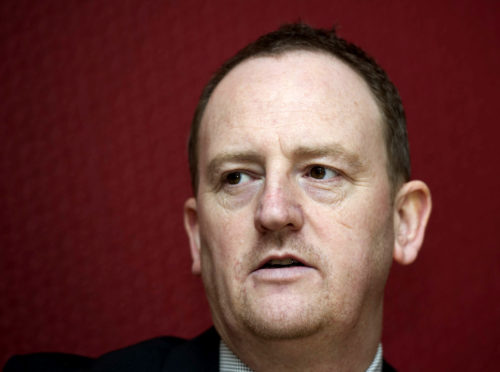 Caley Thistle chief executive Scot Gardiner insists there is no knight in shining armour waiting in the wings to safeguard the club's future.
Inverness last night held an extraordinary general meeting at Caledonian Stadium, in which Gardiner and new chairman Ross Morrison outlined the club's plans to deal with cashflow problems to over 100 shareholders.
The club announced a projected loss of £872,000 for the year ended May 2019, which is up by £62,000 on the previous 12 months.
Caley Jags are keen to secure fresh investment and new directors, with Morrison joined by only Gordon Fyfe and Liam Dalgarno on the present board.
Gardiner described last night's meeting as "positive" but says talks will remain ongoing with a number of individuals in the coming days.
Gardiner said: "The chairman and myself have been speaking to a number of individuals. We have not been speaking to one person, there is no knight in shining armour that's coming over the hill.
"We have been speaking to a number of individuals because our intention is to put together a board of directors of merit and people with business respect and reach in the city.
"There wasn't one new owner coming in. Ross is the chairman, and we are working on bringing additional people to the board.
"The meeting was never going to be unveiling a new signing who is going to take away all our cashflow problems."
Morrison, who replaced Graham Rae as chairman last week, is confident the club's future is not under threat despite its latest loss, despite reports suggesting the club could be under threat of administration if it does not receive investment.
Morrison said: "I'm fairly certain. I'm a lot more confident now than I was even three or four hours ago.
"That was a fairly positive meeting. There are a lot of people who shook my hand and said they would help, and a lot who said thanks for being open and frank about what the situation is.
"It's not wonderful at the present moment, there will be a time in the near future when we won't have to have EGMs and we won't have to ask again."
Gardiner yesterday addressed Inverness' players to assure them of the club's future, with manager John Robertson content his players' focus is solely on the field.
Robertson said: "We've had meetings with the players to calm any fears they've got and that's where we are.
"I've had regular meetings and while the EGM has been called, Scot and the chairman are very confident of the future of the club.
"That's what we're saying to the players – there's nothing to worry about, keep doing your job.
"We've got to forget about the noise from the outside, continue to work hard and continue to win games – and try, like everyone else, to get back to the Premiership.
"We'll concentrate on the football and on getting results."