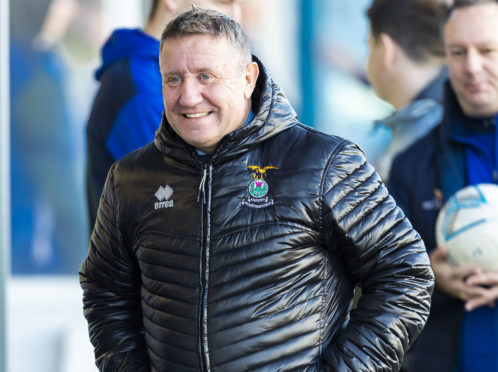 John Robertson wants Scotland's football bodies to consider testing retired players for early symptoms of dementia after a recent shock study linked the disease to head injuries.
The Caley Thistle manager admitted he was "a bit of scared of what lies ahead" as he recalled often playing through bouts of concussion in his own free-scoring career.
The Hearts record goalscorer was knocked out cold on the pitch only to play the following week on more than a few occasions.
Robertson's call comes after a Glasgow brain injury research group's
ground-breaking 18-month study identified a clear link between heading the ball, dementia and other killer diseases.
It found footballers were five times more likely to get Alzheimer's disease, four times more likely to develop Motor Neurone Disease and twice as likely to get Parkinson's.
The Scottish Youth Football Association yesterday issued fresh advice to its member clubs, recommending that heading was removed from all training drills and eliminated, where possible, from matches.
England's Premier League will also investigate a ban at academy level, while Bournemouth have already stopped its youth team from heading the ball.
The Scottish Football Association is also probing the issue, with Robertson keen for them to take decisive action.
The Caley Thistle manager said: "Without obviously fully knowing the medical aspect, I can see how in young children in particular their heads and membranes around the brain are still quite soft.
"Going beyond that, the dementia survey that came out is quite disturbing.
"I think I saw that three-and-a-half times more footballers are getting dementia than the average population.
"I was knocked out, what six, seven or eight times? And then I would play the following week.
"You worry if that's going to  have an effect. The balls, while they weren't as heavy as the '30s, '40s, and '50s, were still very heavy.
"It is more the concussion aspect I worry about because I played on in games when, looking back, I was probably concussed or semi-concussed.
"It is something we have to look at, at all levels."
Robertson feels the SFA, or the Professional Footballers' Association should take the lead.
But he stressed: "I haven't had checks. I'd hope the PFA or SFA would have a look at that and come up with some kind of testing.
"In American Football, the national body got experts in to check players out. It would be nice if the SFA did that.
"Failing that they could at least instruct us to go and see our own GPs."