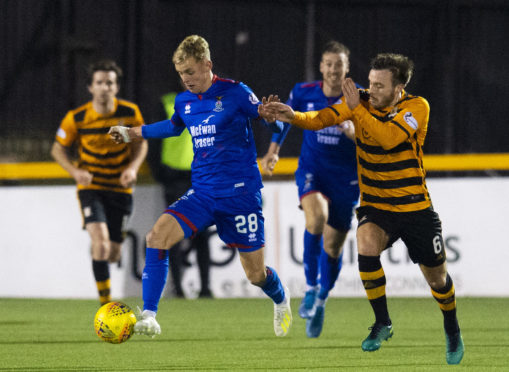 Caley Thistle attacking midfielder Roddy MacGregor is eager to regain the momentum he had built before breaking his thumb.
MacGregor made his return to the side as a substitute in Saturday's 2-0 Championship win over Alloa Athletic, following a month on the sidelines. It thwarted a fine run in the side for the 17-year-old, who had started five of the previous six games before suffering the injury in a 2-0 win over Queen of the South last month.
MacGregor is determined to pick up from where he left off, and he said: "I got the cast off last week, so I'm back and ready for selection now.
"I went into the hospital last week and got a thermal plastic cast made, so I will probably have to still wear that during the games but it will be fine for the referees.
"Hopefully I can get back into the team as soon as I can.
"It has given me a chance to rest a wee bit, so it could be worse.
"Obviously I wish I could have played those games, but we get no weeks off. There has been a game or two games every week, so it is a hard schedule.
"I suppose it would be good for my body to take a break from it. At the same time, I just can't wait to get back into it."
MacGregor had been on the fringes of the side last season, making seven substitute appearances, however the Inverness-born player feels the starting opportunities handed to him by manager John Robertson this term have helped to bring him on further.
He added: "It has been good because when you are not playing as much it's actually harder to maintain match fitness.
"When you are playing and starting games, that's when it clicks for you.
"I'm enjoying it a lot. The manager told myself, Cameron Harper and Matheus Machado at the start of the season that depending on how we did in pre-season, he would decide if we were ready for it or not.
"He has shown his faith in me there, so hopefully I can just try and get back in the team and keep trying to repay him."
Inverness have returned to within seven points of Championship leaders Dundee United with back-to-back wins over Dundee and Alloa in recent weeks.
MacGregor added: "If we are up near the top we've always got a chance of going up.
"We just need to stay as close as we can by winning as many games as we can."