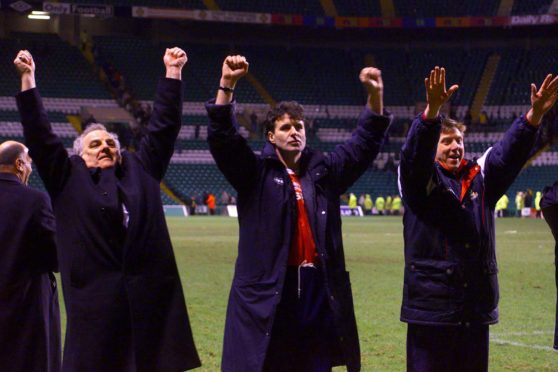 Such was Steve Paterson's belief in his Caley Thistle team, he does not regard the famous 2000 triumph over Celtic as his most impressive Parkhead triumph.
Inverness created shockwaves 20 years ago today when they defeated the Hoops 3-1 in the Scottish Cup as a First Division side, in what remains the club's most renowned triumph.
The victory, which resulted in the sacking of Celtic boss John Barnes, created worldwide attention and is still regarded as one of the biggest upsets in the history of the competition.
Paterson tasted victory at Parkhead once again four years later with a young Aberdeen team which triumphed 2-1, to end Celtic's 77-game unbeaten home record.
Paterson considers that victory a greater shock, and he said: "It was seen as the greatest shock, but I never really believed that. Berwick Rangers beating Rangers was a genuinely bigger shock, because you were talking about a Third Division team against a Premier League team back in 1967.
"It was maybe more the fact we had only been in existence for six years that captured the imagination. 'Super Caley Go Ballistic' has been a headline that has stayed with it over the period.
"I wasn't as shocked as people maybe thought I would have been – I genuinely had a lot of belief in that team.
"Normally you go and play the Old Firm teams and it's about damage limitation, but I certainly recall I felt good about this tie.
"We had a lot of good players who were possibly better than the First Division at that time.
"It was maybe not the best squad Celtic had had in their recent history. I wouldn't say I was confident but I was really optimistic.
"On reflection, I still maintain my victory with Aberdeen down at Celtic Park was a far greater achievement. I had a far lesser team then, and Celtic were a far better team.
"They were 77 games unbeaten at home, against a lot of top European sides.
"I'm not downplaying it as a run-of-the-mill result, but all the lads I had were always tremendous players for me in my period at Inverness. We didn't fear any team."
Paterson insists he did not compromise on his attacking beliefs for the trip to Glasgow, insisting Inverness were worthy winners.
He added: "We set out to go for the game. The script was playing out. I'm sure some of the players will verify that my line at half-time was 'I think we can get more goals here.'
"We could have gone out and tried to sit on a 2-1, which was never our policy. I told them I thought we could win the second half with the way we were playing, which was reinforcing the belief we had going into the game.
"I have never looked back at a video of the game, but it wasn't like a fluke where we had to ride our luck too much. I think we were the better team on the night."
Inverness went on to finish sixth that season, before eventually winning promotion to the top-flight under Paterson's successor John Robertson in 2004.
With Caley Jags going on to win the Scottish Cup in 2015, Paterson takes pride in the fact his class of 2000 is still celebrated to this day.
Paterson added: "It went global – it was unbelievable the publicity and spotlight it brought on the club.
"It still seems to be a magical result, as when the Scottish Cup comes around it always seems to get a mention.
"It's a fantastic memory – and one that's is always going to be a part of Caley Thistle history.
"That's a great tribute to the events of that night.
"The team I had was a team of winners. That squad eventually got into the Premiership – it was a golden era for the club."