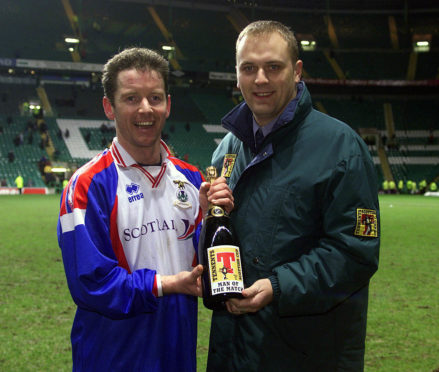 Charlie Christie was convinced fate would hand Caley Thistle a Scottish Cup trip to Celtic today – 20 years on from the Highlanders' most famous triumph.
Inverness host Premiership side Livingston in today's fifth round tie, which marks the anniversary of Inverness' 3-1 victory over the Hoops in 2000.
Although Caley Jags went on to win the competition five years ago, Christie feels the triumph by Steve Paterson's First Division side remains the most notable in the club's history.
That made Christie, whose son Ryan is among the Hoops' key players, all the more determined to see Caley Jags secure a sentimental rematch with the Glasgow side.
Christie said: "I was watching the draw a couple of weeks ago – and I thought it just had to be Celtic.
"I was gutted, I would have loved for the club to have gone down again 20 years later to play at Parkhead, for obvious reasons as well with the young fellow being there now.
"The interest that result against Celtic created in the club, and football in the north of Scotland, was massive.
"It was lovely as an Inverness lad to play a significant part in probably still our biggest win, although we have since won the cup and stepped on.
"Given where we were in Scottish game, and the good it did us, I was privileged to play a part.
"It certainly gave us a taste of what could come – and in 2015 we finally got there."
Inverness' victory sent shockwaves throughout Scottish football, coming just eight years after the club was formed in the amalgamation of Highland League sides Caledonian and Thistle.
Although playing at Parkhead was a new experience for much of the Caley Jags' squad, Christie credits Paterson with instilling genuine belief the Glasgow side could be humbled on their own patch.
Christie added: "We actually felt quite relaxed. I'm not sure we believed ourselves we could win it until maybe Paul Sheerin scored the penalty to make it 3-1, but we always knew we had a wee outside chance.
"One thing Steve Paterson instilled in his team was that you could win every game you played in. Steve was great at that, his man management was top notch.
"We believed we had a chance, we had a lot of quality in the team, throughout the team there was good players.
"The way we played under Steve was go out and express yourself, I thoroughly enjoyed playing under him."
Christie had spent a spell with the Hoops in the late 1980s without making the first team breakthrough, meaning he relished the moment all the more.
Christie, who was awarded the man of the match award, added: "I had spent some time there so I was looking forward to it, counting down the days. I wanted to grab the game by the scruff of the neck.
"Luckily I had loads of the ball and managed to contribute loads myself.
"Celtic were missing a few players but 10 out of their starting 11 were internationals. I was 33, I had experience and felt it brought out the best in myself, I relished it.
"Celtic were a bit shellshocked. But they were going through a bit of turmoil. Behind the scenes worked to our advantage too.
"Caley Thistle were a factor in the changes that happened at Celtic, they obviously got their act together and the fans started coming back in numbers."