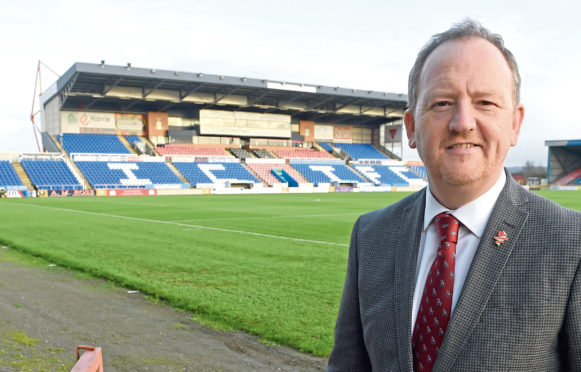 Caley Thistle chief executive Scot Gardiner says the Highlanders cannot fully plan for next season until the legal action lodged by Hearts and Partick Thistle against the SPFL is resolved.
Both clubs have lodged a joint petition to the Court of Session to contest their relegation from their respective divisions, following a vote to end the season in April amidst the coronavirus crisis.
After three days of proceedings Lord Clark yesterday ordered the SFA to appoint an arbitration panel to hear the case, rather than in open court.
League reconstruction proposals to prevent Hearts' relegation, which would have seen Caley Thistle promoted as part of a 14-team Premiership, did not receive enough support, with the SPFL confirming it will proceed with the present 12-10-10-10 league structure for next term.
Inverness have put season tickets on sale ahead of the new Championship campaign, which is scheduled to start in October, but Gardiner insists further uncertainty will await if Hearts and Thistle's relegation is ruled unlawful.
Gardiner said: "The season ticket money helps us to a degree, but until we know the outcome of the Hearts court case we can't really do anything.
"If they win their case it could have a big impact on us.
"At the moment the manager is in lock step with me.
"We can't do anything really until we know what the position is."
Inverness have enjoyed a promising first week of season ticket sales, having already reached more than a third of last season's total figure in the opening week.
A number of supporters have also chosen to donate extra money, after Caley Jags priced season tickets at 75% of last year's cost due to the upcoming campaign being shortened to 27 games.
Gardiner added: "We are absolutely delighted. I have been looking at the figures from the last two seasons, as well as this coming season, and it's fantastically encouraging.
"We have sold 40% more than we did in the same period in the last two seasons, which is tremendous.
"Because of the amount of donations we have had, the value of that is even higher.
"People have been giving us donations from £1 to £300, and everything in between.
"I'm delighted with people just buying a season ticket, it's much appreciated. If they donate as well, it makes a difference. We just need to keep it going."
Inverness have also offered to refund season ticket holders who wish to claim money back on the five home matches lost due to the premature ending of last term, however Gardiner says there has been a low take up on the offer.
He added: "We haven't had many so far – I think we have had four in total, and three of them renewed their season ticket.
"That's totally understandable, I have no problem if anyone wants to do that.
"We are asking people if they can afford it to please do it, and if they can't, it's no problem. We will obviously refund them."