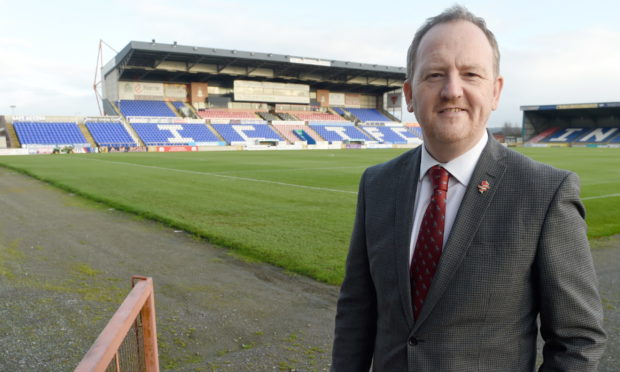 Caley Thistle chief executive Scot Gardiner says the future of the club's youth academy hinges on the support of parents following a series of meetings this week.
Inverness have asked parents of young players to provide weekly donations of £10 in order to retain the club's academy in its current form, with the club having received support from around 50% of parents so far.
Gardiner and chairman Ross Morrison have warned they will be forced to undertake a vast downsizing of their youth setup if they fail to receive enough support, including withdrawing from the Scottish FA's Project Brave.
Caley Jags invited parents of the club's 140 players between the ages of 12-18 to socially-distanced briefings at Caledonian Stadium, with the meetings taking place yesterday and on Monday.
Gardiner hopes he, Morrison and academy director Charlie Christie can use the briefings to convince those who have yet to sign up.
Gardiner said: "We have different times for different age groups, given social distancing, from 6.30pm across the two evenings.
"We've had nothing negative back, all positive, but until you meet people face-to-face.
"We're not dressing it up at all. These are really important meetings for the future of our academy.
"We're going to be looking everybody in the whites of the eyes and saying 'here's the situation – what do you want? It's down to you guys now.'
"The chairman and board certainly don't want to be making cuts, but at the same time we're in the circumstances we're in. We're in a pandemic.
"Ross Morrison is not a chairman who wants to cut youth football, but we have to look at it and ask what's the best use of our money?
"Ross and I are fighting to keep it, but we can't do it on our own is the bottom line."
Inverness have estimated an annual cost of around £1,200 for each player in their youth system, which Gardiner insists is difficult for the Championship outfit to sustain given their geographical location.
Gardiner added: "It's not the SFA's fault that we're in the Highlands and we have vast areas to cover, the size of Belgium, from where our demographic is.
"We happen to be two-and-a-half hours minimum away from almost all our games.
"But a Highland boy is more expensive to have a chance of a pathway through to professional football than a young lad in the central belt.
"That's not the SFA's fault, it's not Malky Mackay's fault – it's just a fact.
"We're not griping at the SFA, but the system is not set up for Championship revenues."
Gardiner says the club will not have long to make a decision on the future of the academy, adding: "We will only have a few weeks to make some sort of decision.
"It has to go to the board as well, we have to show them what the response has been."