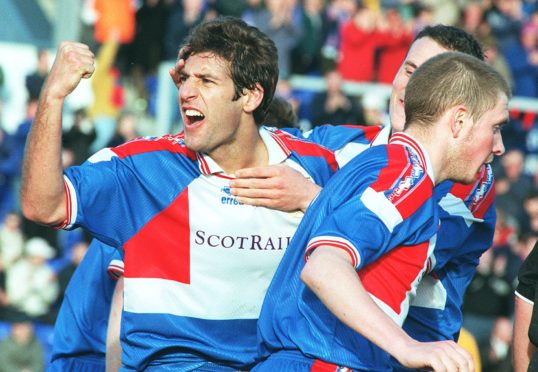 Davide Xausa's playing career took him around the world and back again.
He initially left home at 15, for a trial at Sporting Club de Portugal, then under the stewardship of Bobby Robson.
He caddied for the former England manager during rounds of golf in Lisbon, with neither speaking a word of Portuguese. He was picked up at a bus stop by Jose Mourinho, then Robson's translator. It was a dizzying start for a kid barely out of Vancouver.
Scotland was, however, where he felt most at home. Brief spells at Stoke City and St Johnstone did not work out, for a young man still fresh into the game.
Crossing paths with Steve Paterson at Caley Thistle kick-started his career, after 12 appearances for the Dutch side Dordrecht.
Paterson's battles with his own personal demons have been well-documented but Xausa credits him with being the man he needed in his career.
"I had just come back from Holland and for me at that time, having Steve as manager was the best thing for my career," said Xausa. "I know he had struggles personally but as a manager and friend, he was a perfect fit. He gave me confidence to be the best player I could be.
"It was ideal, in that it wasn't a pressure-cooker environment. You could focus on the football. Duncan (Shearer) was there and as a striker, having a legend like that is always helpful."
Barry Wilson was a good friend too, with the pair playing together at Inverness and Livingston, where they played in the Uefa Cup in 2002.
"I have so much respect for him in what he did in his career. He's probably one of the most underrated players in the SPL.
"He was always a good friend of mine. I read something a while back where he described me like marmite, which I thought was one of the funniest things. My wife was totally on board with it. I had some great friends and colleagues and some people I just didn't mesh with.
"You look back 20 years later and I could have things differently, for sure, but the club was supportive and allowed me to develop."
He and Richard Hastings were frequent flyers too. The pair were colleagues with the Canadian national team, travelling across the globe to fulfil international commitments, which at that period brought unprecedented success.
The pair were part of the victorious Gold Cup side in 2000 – the Canucks most recent international trophy – and played at the Confederations Cup a year later against Japan, Brazil and Cameroon.
"That was a great run. We were definitely a third-tier national team when we started. You look at what's just happened now, when a Canadian player (Jonathan David) sold for 30 million euros to Lille, so it's nice to see their development happening.
"It was totally unexpected (Gold Cup success) and I still get a ton of questions about it. It's still the only senior tournament that's been won by a Canadian team.
"As much as we won the Gold Cup and that was great, playing at the Confederations Cup, in Japan and South Korea against Brazil, Japan and Cameroon, they were some definite highlights. We tied with Brazil 0-0 but I think if there'd been a possession meter in that game, it'd have been 93-7.
"That was probably the highlight for me. Just the exposure to the players, knowing I could play at that level. There's always things you remember; playing in Mexico City in front of 100,000 people at the Azteca.
"We would leave Inverness at 4pm on a Friday and arrive in Tegucigalpa, Honduras, at 10am on a Sunday. It was insane, the travelling we did. We weren't travelling first-class at that time. We were travelling in the cattle-cart."
Canada is where we find Xausa now. Based in Whistler, north of Vancouver, he is the founder and president of Velofix, a mobile bike repair empire that has more than 100 franchises across north America.
He is keen to expand in the coming years, with the business having weathered the Covid-19 pandemic reasonably well, and to give back with some lessons he has learned.
"The guys used to laugh at me, as I'd sit on the bus reading finance magazines. I guarantee I lost more money than I made at that time doing stupid things, where I thought I was smarter than most people.
"A friend of mine was on Dragon's Den and I had a good job at the time but was a bit of a square peg in a round hole. We ended up getting into cycling and we loved it, getting to travel and see the world. I grew frustrated with this whole experience of taking your bike to the bike shop and it was an itch we wanted to scratch.
"We started with one van in Vancouver and now we have 125 locations across North America and lots of requests to expand internationally. I kind of fell into it but it's been fun growing the business.
"I always thought 'what kind of transferrable skills could there have been?' But there really is a lot. One day I'd love to give back in that way to educate footballers, that there are things you pick up or have navigated in a 10 or 15-year career that are applicable off the field."
Returning to Scotland at some stage has its appeals, because of the terrain and the scope for Xausa and his business partners to tap into the cycling community over here.
A visit to the Caledonian Stadium would be a guaranteed stop-off on his route.
"I hope to come back with my boys. I've got an 11-year-old and an eight-year-old and now that I know they (Inverness) are going to keep the youth academy, it'd be great to come for a summer and have my boys come play with the youth team.
"When you're a young kid in your early-20s, you don't realise the things you take for granted. The golf, the fishing, the history, all that stuff where I scratch my head and say 'what were you thinking? There were a million things you could have done'.
"I'd love to bring the boys back, show them where I lived and where I played. It's not always a glorious life as a footballer, I think that's a misconception with some people. It's very much a highs and lows type of career. Inverness caught me at one of my lowest periods and brought me up to my highest when I left."