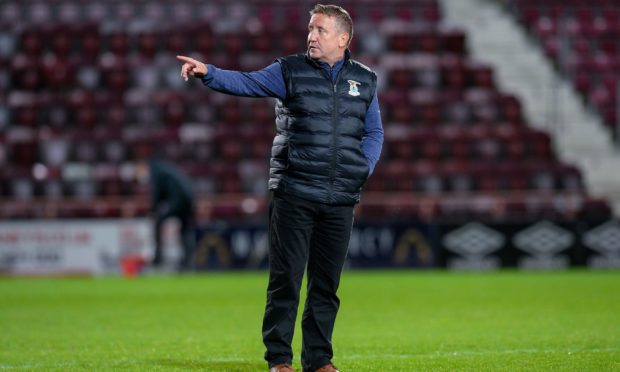 John Robertson believes the frustration of missing out on the chance to win promotion last night can spur Caley Thistle on this term.
The Inverness side get their Championship campaign under way today when they take on Dunfermline at East End Park.
Caley Thistle were sitting second when the 2019-20 season was halted in March because of the Covid-19 pandemic with Robertson still disappointed last season's promotion play-offs did not go ahead.
He said: "I don't think anybody was going to catch Dundee United, but there was still a real battle between ourselves, Dundee and Ayr United.
"When the league finished, we did feel a little bit down and hard done by.
"League reconstruction may have been beneficial for us, but I genuinely thought there would be some kind of attempt to do the play-offs as they did in England – one-off games having frozen the league where, perhaps, Dundee hosted Ayr at home, with the winner hosted by us in a one-off game.
"The winner of that would play second bottom in a one-off match if they were intent of going ahead with promotion and demotion.
"We're disappointed all our hard work counted for nothing, but it was a very difficult decision for the SPFL to make."
Despite a number of Championship rivals boasting higher budgets than Caley Jags, including Hearts, Dundee and today's opponents Dunfermline, Robertson remains intent on keeping the Highlanders challenging at the top end of the table.
He added: "Nothing changes. The chairman Ross Morrison, chief executive Scot Gardiner and myself have had lots of chats about what we can and can't do and where we are financially.
"But the remit is simple and never changes. Whatever budget I have, I've got to get the team as competitive as possible.
"That's the aim again this year. We're gouging to do our very best to win as many games as we can and be as high up the table as we can, regardless of what our opposition does or doesn't have."
Robertson feels efforts should be made to reduce the financial disparity between top-flight and lower league clubs in Scotland.
He believes the example of English clubs, who are in talks over a new strategic plan which will provide a £50 million rescue package for sides in the bottom two tiers, should trigger similar discussions north of the border given the financial implications of the pandemic.
Robertson said: "There is such a huge gap between the funding of teams in the Premiership as compared to the Championship. On August 1 this year, clubs in the Premiership were getting cheques of around £750,000. Clubs in the Championship were getting cheques for £66,000.
"It would be great if it was more evenly distributed. You hear what is happening in England at the moment as they go through potential change because clubs in the lower leagues are desperate for help.
"It is the same in Scotland. Clubs below the Premiership are in desperate need of help."