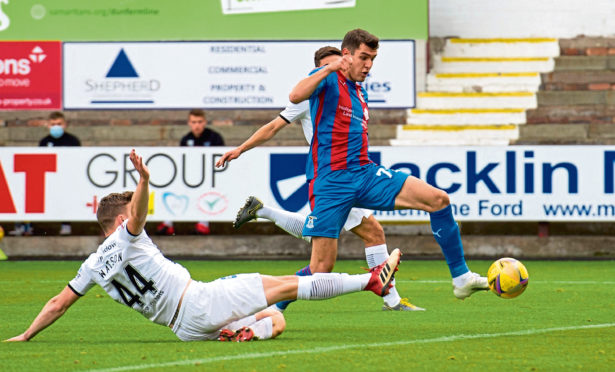 Caley Thistle do not have their problems to seek up front, with Miles Storey and Shane Sutherland already out injured.
If Nikolay Todorov has a rib injury after Saturday's 3-1 loss at Dunfermline that's not good. These are things that will take time to heal, because in terms of physios treating them, there's nothing they can do for that.
I don't know how bad summer signing Shane is with his hamstring, but they could be in trouble up top after a couple of weeks.
John Robertson still has a few boys missing to come back, but they don't want to fall too far behind. It's important they get something from the game against Ayr United on Saturday.
On the field, you would expect Ayr and Caley Thistle to be up there competing in the Championship. I know John has talked about everybody chasing Hearts, but it's been quickly established, with their result against Dundee, it's going to be difficult to hold on to them.
Even at this stage of the season in the first couple of games, you're looking to try and nail a play-off position. But he does need a few of those players back. There's only so much you can put on to the young boys.
I think they're playing well, but they're lacking that wee bit of experience when it comes to putting the ball in the back of the net.
It's fine if your ambition as a club is to sit in that division – you can say "we'll give these guys experience". But Inverness are at a stage where they need to be pushing for promotion and it's difficult to ask too many youngsters to do a man's job.
You can bleed one or two in, but asking too many to do it is going to be difficult. At the moment John doesn't seem to have much choice; it's then up to the players.
You can either sink or swim. Somewhere along the line, when you're 18 or 19, you need to be pushing into the first team. You can't be sitting about when you're 21 or 22 on the bench in the Championship.
If you're going to be a footballer, you need to be in that first team.
You don't want to go too deep talking about finances. You can't go into every game talking about anybody's budget. It is what it is; you've got to put your players up against them and ask them to win eight or nine of their individual battles. If they can do that, there's no reason why they can't get results.
Asking too many kids to do that week in week out, when they're still trying to find their feet, is difficult for John. The sooner he gets these players back and has a full squad to pick from to get going, the better.
Getting Aaron Doran back will help. He's a Premiership player and he didn't look out of place at that level. Shane, in his early days at Inverness, found it quite adjustable. But there's a few headaches for John.
Staggies midfielders show great promise
I was at the Ross County game at the weekend and I was really impressed with the two boys they had in midfield, Charlie Lakin and Harry Paton. They were really busy and their fitness looked top notch.
They've got a good balance in there and it allows Iain Vigurs to keep his legs and sit in front of the back four.
They've certainly got something going – they just need that killer touch back in front of goal.
It comes and goes, one minute they're scoring goals freely and next they go four or five games without scoring.
Getting a clean sheet was a big positive, albeit they rode their luck at times. It could have been two or three in the first 20 minutes. It's something, particular at home, Ross County need to be mindful of. They need to start well and not be chasing games.
Cup final places richly deserved
It was a good result for my old club Buckie Thistle to beat Brora Rangers on penalties and get back to the Highland League Cup final.
I watched Brora a couple of weeks ago against Dundee and they played very well, so it's brilliant for Buckie.
For Rothes to get to the final as well is excellent. I'm pleased for Ross Jack – it's been a while since Rothes have been in a major final.
When I was manager of Buckie I can't remember Rothes getting to a final, so it's fantastic for them as well.
We got to the final of the Highland League Cup when I was in charge of Buckie – but we got hammered 5-0.
We lost the spine of our team and played Keith. We just couldn't handle them on the day. They destroyed us.
Fingers crossed they have better luck this time around.