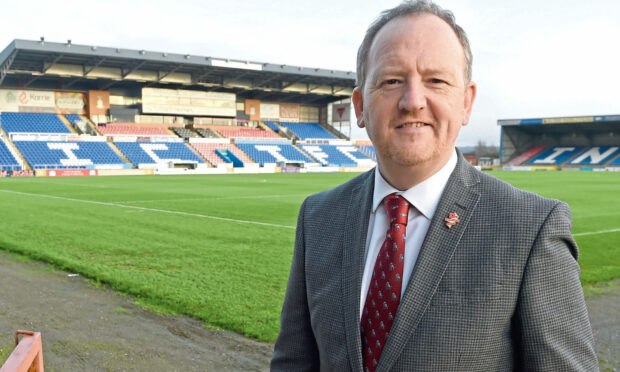 Caley Thistle chief executive Scot Gardiner is confident the Highlanders will address teething issues with the live online streaming of matches.
Last weekend's 1-1 draw with Ayr United was the first Championship home match to be shown live to Caley Thistle supporters on a pay-per-view basis, with season ticket holders also able to access the stream.
Inverness, along with several other lower league clubs, are using an artificial intelligence camera to broadcast matches, containing in-built ball-tracking technology to provide an automatic broadcast of matches.
Nearly 2,000 supporters who watched the stream were left puzzled last weekend however, when the camera software intermittently picked up on the bald head of assistant referee John McCrossan instead of the ball.
Gardiner says the SPFL, who operate the match centre platform, have been made aware of the issue, but he is counting on a favour from the thinly-haired management team of Saturday's visitors Arbroath when they make the trip to Caledonian Stadium.
Gardiner said: "I'm going to personally ask Dick Campbell and his brother (Ian Campbell, assistant) to wear bonnets on Saturday to take away one element of surprise for our state of the art artificial intelligence system.
"There were going to be teething problems for the first game. We didn't think it was going to be a bald headed linesman, but you live and learn. If the sun is not out it's not a problem.
"The league are in charge of it. They are aware of it and working on it.
"It wasn't as bad as everyone was saying but it wasn't ideal.
"In the Dundee United game against Brechin, there was a pest control company running an LED advertising system which showed a rat running, and the camera followed the rat.
"On English games you can see it as well with dachschunds running across the boards.
"In the two trials we did against Elgin and Cowdenbeath both went well, other than a little glitch at the beginning of the penalty shoot-out.
"Other than that, everything has looked fantastic in HD.
"We had 1,600 people watching the game on Saturday. I think the league had three or four complaints, with 20 to 30 people having some issues accessing it but all got addressed."
Inverness are making primitive plans for supporters to return to Caledonian Stadium for the visit of Raith Rovers on November 21, after the Highland region was placed into tier one of the new coronavirus restrictions.
Gardiner says discussions are premature but he would be hopeful of accommodating approximately 600 supporters in the stadium's north and south stands.
Gardiner added: "We are already in operation of a biosecure stadium. What we would be doing is adding in 200 to 300 in each of the stands behind the goals.
"It might be slightly more or slightly less depending on calculations, and things like the capacities of toilets, but we would certainly be looking at around those numbers.
"It will cost us money, but people have paid us money. It would be fantastic for us to get supporters back in however many numbers."
Gardiner says the prospect of attracting crowds will come as a major boost for the morale of players, staff and supporters alike.
He added: "James Keatings came in on Wednesday to use the gym, and was absolutely buzzing of the thought of there being supporters. It tells you what impact it has on players.
"Every step is a step in the right direction.
"I saw the Eden Court theatre chief executive James Mackenzie-Blackman's comments about the numbers he can achieve with 27% of their capacity.
"He has spoken about what a boost it has given them emotionally and intellectually. We would be no different from that, even with reduced numbers.
"The Ayr game on Saturday was a cracking match, which fans enjoy to see in person.
"The games are good games just now. The Championship is very well balanced and I think there are going to be a lot of cracking games this season.
"It would be good if we could have supporters coming in. I don't see away fans being able to come here any time soon, but our first concern is with our home supporters."