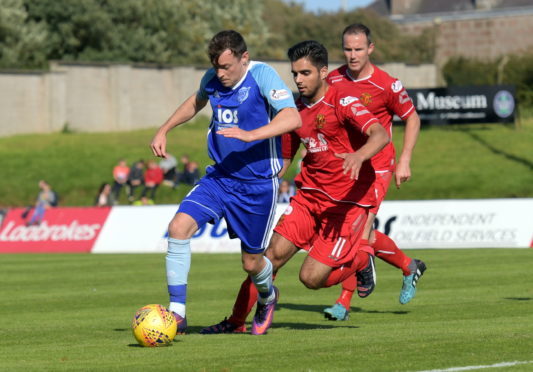 Jim McInally insists the first step on Nicky Riley's road to recovery is being able to walk without pain again.
Riley suffered a serious knee injury in a 3-2 win over Berwick Rangers in January, tearing his anterior cruciate ligament, as well as damaging cartilage and his kneecap.
The former Celtic and Dundee midfielder has been unable to complete his training to become a PE teacher, as he cannot undertake physical elements of the course.
The injury would be significant enough for a full-time player to recuperate from but for someone operating at part-time level, McInally understands the impact is far greater.
He said: "The main thing is we get him back to normal again, a normal life. That's what I told him on Wednesday. There's a massive difference in rehab between part-time and full-time and that doesn't help matters.
"But we're just hoping for a wee bit of positivity and the first thing we want is for him to walk without pain.
"There was a lot of trauma in his knee. These injuries require a lot of muscle and Nicky isn't that endowed with muscle. The physio has been working really hard with him and that will help. It's a shame for him as he can't finish his university course, because he can't do the work that's necessary. It's a long process for him and the club has been great with him. He's grateful for that."
McInally estimates it could be March before Riley makes his return to the Blue Toon, when the League 2 campaign will be approaching its climax.
Peterhead face fellow promotion-contenders Clyde today at Broadwood, with a chance to open up a seven-point gap on Danny Lennon's side with victory.
McInally added: "We have to be getting a good result down there, as it will open up a nice wee cushion on them. They will be champing at the bit to get back to winning ways.
"There is pressure on us all I suppose but the thing with Clyde is, when they get a bit of momentum behind them they become a bigger team."