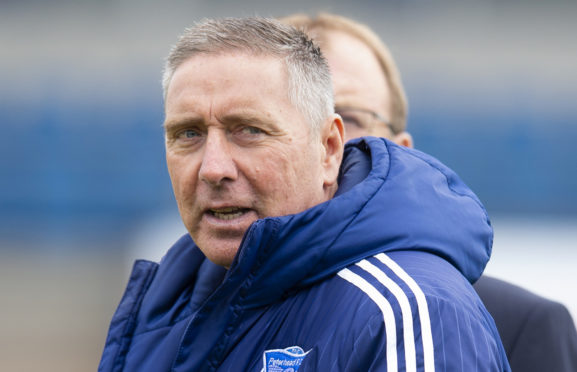 If it all ends for him at Peterhead today, then Jim McInally can walk away with memories and friends for life.
Scotland's longest-serving manager could guide the Blue Toon to the League 2 title for the second time, since taking charge in 2011, this afternoon.
However, he also knows how quickly things can change in football. After last year's play-off final disappointment against Stenhousemuir, McInally contemplated walking away from the job, only to be talked into staying by club chairman and close friend Rodger Morrison.
McInally and Peterhead have become intrinsically linked for the best part of a decade and emotional ties for the former Dundee United midfielder are not easily severed.
He said: "My desire is to do it for them. At the end of the day, when I analyse my Peterhead career, we had one bad season. Until we get back up, that will still haunt me.
"If it finishes today then I walk away with some brilliant memories and that's really important to me. The board, particularly Iain Grant (vice-chairman) and Rodger (Morrison) are close friends and it's brilliant when you can make friendships like that at a football club.
"Sometimes being a manager of a club is just about the team. But I have a lot of community ties with the club and have got to know a lot of people and really like the town. But ultimately it's about results.
"The last couple of years before I came in, we'd been near the bottom of League 2. Now, I think our rightful place is in League 1 and we're capable of doing what Arbroath have done this year. It's where I believe we should be and it would be great progress."
Last weekend's gut-punch of a late Stirling Albion equaliser, depriving Peterhead of the title on home turf at Balmoor, will only be truly vanquished by finishing the job.
Travelling to Hampden Park today to face Queen's Park, victory would banish any chance of the championship slipping out of their grasp at the last moment.
Clyde, who essentially need Peterhead to lose and then beat Cowdenbeath to go up as champions, are the only team who can stop them. They are two points behind the Blue Toon and have a weaker goal-difference.
McInally added: "We have to go out to win, as we always do. I don't think about playing for draws as knowing our luck, if we drew then Clyde would win 6-0.
"It's not been a good week, to be brutally honest. We shot ourselves in the foot by not managing the game properly (against Stirling) and you couldn't have thought of a worse ending.
"But you go to training, see the players' determination and it's not long in lifting you up again."