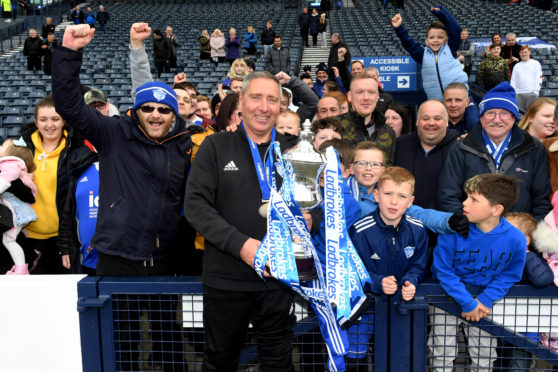 Jim McInally will afford himself a week of respite before discussing his future with Peterhead.
McInally, Scotland's longest-serving manager having been in charge since October 2011, guided Peterhead to the League 2 title on Saturday following victory over Queen's Park.
However, the pressures of the job and his perspective on life away from football have led him to question whether he wants to continue in the role, making reference to former Balmoor boss John Sheran, who suffered a heart attack the day after receiving the Highland League title.
He came close to quitting a year ago after missing out on promotion and McInally, who is close friends with Blue Toon chairman Rodger Morrison and vice-chairman Iain Grant, could see this high as the perfect way to sign off.
McInally said: "I'm going to chill out this week, then come up for the Cove Rangers game as I want to see that. I'm just going to enjoy the break. I'll come up and see Rodger and Iain after the week.
"(I need to look at) whether it's good for me or not. There's been a lot of sleepless nights and a lot of pressure. The other thing is how much are you enjoying it?
"I don't worry about myself as far as health goes but I'm not a miserable person. I love the club and being on a high is how I wanted it to end.
"You look at John Sheran and wonder if it was football that played a part in what happened to him. You just don't know. It's a game to be enjoyed; I don't read social media but I would be kidding if I said I didn't mind people slaughtering you, judging you, criticising you. I hate that side of things. You're wanting it to be someone else and to leave you alone.
"I've done 650 games now and it's a lot. I'm not saying I would retire but that figure has been quite consecutive. People ask what I would do; I would work, that's what we're here for. I've always had the motto that football doesn't owe you a living and it doesn't owe me a living. I've been full-time since I was 16.
"If I went away and bought a taxi, some people might look at me like that's a crime. It's not. That's life."
Peterhead have met expectations this season with a title triumph but that has come at a cost.
McInally added: "The pressure has been terrible. Everyone says 'he puts pressure on himself' but I don't think that's quite right. If you look across the leagues, outside Celtic we've got the highest points total. That's with shipping four points in the 94th minute of our last two home games.
"When people say you're the team to beat and the team with the biggest budget, you know you're expect to win. That in itself brings pressure and there's not a lot of leeway to lose games.
"The consistency of the team has been fantastic; we've not been on a poor run over the last two seasons. To go to the national stadium and have everything there – the celebrations and fantastic support – was a great way to do it."