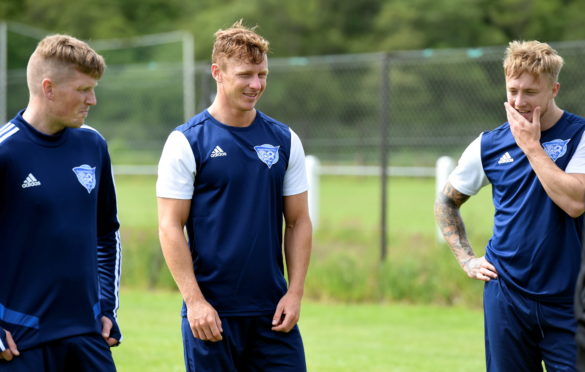 Aidan Smith and Scott Hooper are nearly inseparable.
Both hail from Dumfries, started their careers at Queen of the South and were released from Palmerston on the same day two years ago.
They have spent the last two years at Annan Athletic in League 2 and will join forces again at Peterhead this season in League 1.
Smith, who scored 23 goals in 74 games for the Galabank side, jokes the two are stuck together "like glue" ahead of another reunion with the Blue Toon.
He said: "Everywhere he goes, I seem to go. We started at Queens together – he was in the year above me – then both got up to the first team at the same time.
"We got released at the same time, signed for Annan together and have now signed for Peterhead. I think we might even be second cousins as well. There'll be a company car of four or five of us coming up the road, for training and games. The travelling isn't something that really fazes me, I'm just excited."
Smith's first team experience at Queens extended to 29 games over three seasons, scoring twice – his first as a 17-year-old against Rangers. He had a loan spell with Annan during the 2016-17 season before making a permanent switch. He also played alongside current Blue Toon forward Derek Lyle during his time at Palmerston.
He added: "I didn't play a lot at Queens – a few games here or there.
"It was a good standard though, Rangers were in the Championship when I was getting some game. But I just didn't play enough to see how good it was."
The 22-year-old admits it has been a struggle at times to adjust to part-time football, after he left school to pursue his dream of being a professional footballer.
Smith said: "I left pretty much without any education to go into football. Trying to find a job wasn't easy; luckily the Annan captain, Peter Watson, gave me a job a few weeks before the season in his plumbing business, so hopefully I can get an apprenticeship.
"I didn't think I'd do anything other than football until I got released."