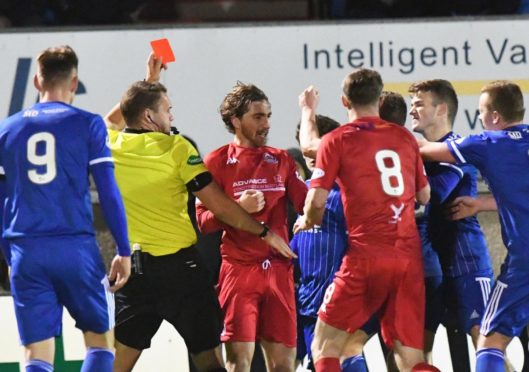 Peterhead will attempt to have Simon Ferry's red card rescinded after the midfielder's dismissal tainted the Blue Toon's much-needed League 1 victory over Clyde at Balmoor.
Ferry was dismissed for violent conduct following ugly scenes near the end.
Ferry got caught with a bad challenge by the Bully Wee's Ray Grant.
But referee Chris Graham, who also carded eight other players during a rough contest, sent off former Dundee player Ferry.
The result saw Peterhead leapfrog their opponents into seventh place.
Blue Toon manager Jim McInally said: "We could have done without the carnage at the end, with the players squaring up to one another. There was no need for all of that.
"It started off in the first half with Jason Brown's tackle.
"It was a foul and nothing else but there was too much of that going on in the game and we have ended up with Simon getting red-carded for having his leg studded from his knee down to his shin.
"I just felt as though the referee lost the place a bit but I am delighted with the result and if we can get Simon off with that red card, we will do our best."
Peterhead scored in each half to grind out all three points from a scrappy game, which was hindered by the testing overhead conditions.
Ben Armour made their 30th-minute opener with a delightful right-wing cross which was controlled and finished at the far post by Derek Lyle.
Despite Clyde pushing the Blue Toon back in the second period, their only real sight of goal came in the 74th minute when Mark Lamont slipped in Darren Smith. But Greg Fleming was quickly off his line and down at the forward's feet to make the save.
However, Scott Brown confirmed the home win with four minutes remaining by sweeping a 12-yard shot inside the far post after unselfish work from substitute Rory McAllister, who had cut into the box from the left channel.
The Ferry incident then sparked a huge melee but there was no time left for Clyde, who had 50-year-old boss Danny Lennon on the bench due to an injury crisis.
McInally added: "We have played well in recent weeks without getting anything so I talked before the game about winning ugly and this was certainly ugly.
"The wind dominated the game and sometimes it is as hard to play with the wind than it is against it."
"But it was fantastic to go in one goal up at half-time against the wind and that meant we did not need to chase the game in the second half."
"We just needed to win the game more than anything although it was not a good watch."
Lennon said: "I have never been through, in all my time in management, the experiences we are going through just now."
"That would have been desperate measures for me to take to the field, let me tell you."