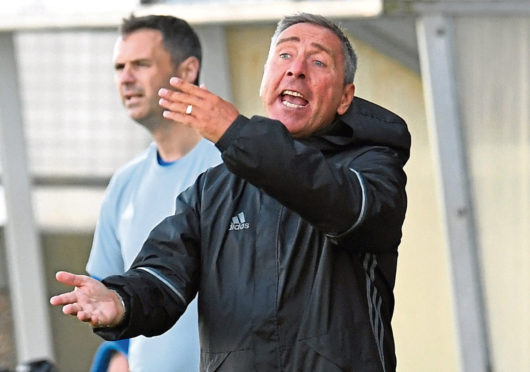 Scotland's longest-serving manager Jim McInally insists football can't continue the "charade" of playing without supporters after First Minister Nicola Sturgeon warned it's "unlikely" fans will return next month.
The Championship, League One and League Two campaigns are set to begin on October 17 with League Cup group stage fixtures starting 11 days earlier.
The Scottish Government's indicative date for supporters returning to stadiums had been October 5, however, Sturgeon warned yesterday changes to Scotland's coronavirus routemap due to take place on that date were now unlikely to happen.
If fans can't return any time soon, Peterhead manager McInally believes, to allow clubs to survive, it would be better to call a halt to the campaign now rather than attempt to play behind closed doors for any sustained length of time.
The Blue Toon boss said: "Clubs have been signing players, we're back training and getting ready for the new season and it all costs money.
"But I've said from the start, if it's not going to be possible to play with crowds, then lets stop it now while the clubs can do something about it to survive.
"I know our club could do things to ensure we could be OK and most clubs will be the same, and then if it's got to be next season or starting in February and March and playing 18 games or something then so be it.
"But they need to do something about it – don't let this charade without crowds go on.
"Nothing that we've seen at any level of football suggests that there's any merit at all in letting football go on without crowds – not in terms of the product that people are watching and certainly there's no merit from a financial perspective."
There may be debate within Scottish football about the merits of games behind closed doors, with some sides potentially keen to try to play without supporters.
McInally doesn't believe it's a viable long term option and added: "I don't see why things should rumble on. If crowds can't come in then it's not viable, so why should it rumble on?
"It would be much better to stop now rather than cause more damage (by playing without fans).
"If we can't let people in now how are we going to be able to let people in, in a month or two months' time?
"And if we're not going to be able to let people in then stop it now and that gives everyone a chance to save their football clubs before it's too late.
"I don't think you can underestimate how real the threat is to football at all levels."