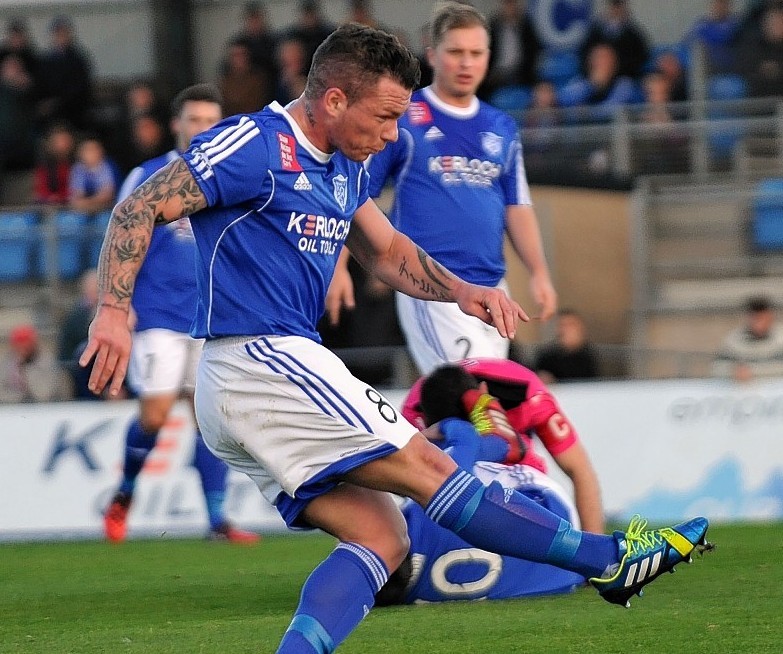 A NORTH-east football boss has called for fans who taunt one of his players about his battle with depression to be banned from games in Scotland.
Peterhead FC manager Jim McInally spoke out as a mental health charity urged the game's governing body to take a tough line on the issue.
The Scottish Football Association is investigating after sick chants were aimed at Blue Toon star David Cox during a match against Stirling Albion.
Earlier this season the 25-year-old midfielder opened his heart about his battle with depression and revealed he had self-harmed and attempted suicide.
He was targeted by rival fans when Peterhead visited Stirling's Forthbank Stadium in a Scottish League One match.
Mr McInally described the abuse as "nasty" and said it was an indictment on the state of the game in Scotland.
"We knew at the time, when he went public, that the skeletons in his closet would need to come out at some point and he'd need to address it," Mr McInally said.
"Until the Stirling Albion game he was fine. Luckily enough, it was the players' night out that night and I think he came through it ok.
"Some football supporters are cruel and you just need to deal with it. But there's cruel and there's just downright nasty. What happened at Stirling, for me, was just a step too far.
"That abuse seems to be ok, and for me that's unacceptable. A steward was actually standing watching the guy shout it and did nothing about it.
"I think, within football grounds, there's got to be measures taken. There's got to be boundaries that cannot be crossed.
"They should be banned, in my opinion."
Charities See Me and the Scottish Association for Mental Health (SAMH) have also condemned the abusive fans.
Judith Robertson, a programme director with See Me, said the charity was urging clubs and governing bodies to take "strong action" against supporters who abuse players over mental health issues.
She said: "No one should be made to feel ashamed to speak out about their mental health problems.
"We fully support David's brave decision to speak publicly and welcome the support he has received from his club, fellow players and fans."
Jo Anderson, the director of external affairs at SAMH, said the charity was "saddened" by the treatment of Mr Cox.
In the wake of the incident, Stirling Albion chairman Stuart Brown, said: "On behalf of SAFC, I extend my sincere apologies to anyone in attendance who was offended or upset as a consequence of anything that occurred during the course of the afternoon.
"Anyone found to be responsible will be dealt with appropriately."
Nat Porter, Peterhead FC's general manager, said the club was happy that the matter would be dealt with.