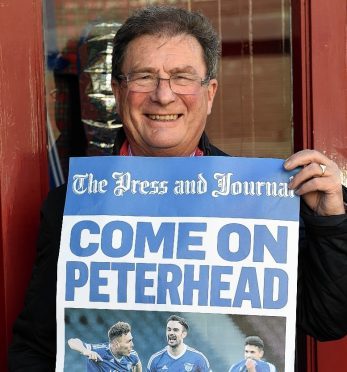 Peterhead will become the ghost toon tomorrow as thousands of football fans travel south for the north-east club's historic Challenge Cup showdown with Rangers.
With the last batch of tickets on sale today, Peterhead fans are gearing up to head to Hampden Park for the first senior cup final in their 125 year history.
More than a dozen buses will take supporters to the match, with more than 3,000 Blue Toon fans expected to cheer on their side against Glasgow giants Rangers.
Peterhead has been engulfed by feverish fan support this week, displaying banners, posters, scarves and even baking Peterhead FC themed goodies.
For their opponents Rangers – who have a checkered form against Peterhead since they were dumped out of the top flight four years ago – the Petrofac Training Cup final comes only days after they clinched a return to the Scottish Premiership.
But despite the gulf in funding and fan base – Rangers are taking 41,000 fans to Hampden, more than double the entire population of Peterhead – the Blue Toon faithful from far and wide believe their team can give Rangers a tough game tomorrow.
Die-hard football fanatic Craig Buchan will be cheering his boys in blue on from nearly 12,000 miles away.
Mr Buchan, who has run the Peterhead Prediction League from his New Zealand home for more than a decade, has dubbed himself a "devoted fan from afar".
The Aberdeen-born father-of-two, who works with Bank of New Zealand, has supported Peterhead since two of his school friends signed up to play for the club.
Sadly Mr Buchan is not able to make the mammoth journey to Scotland's national stadium, but he sent his support to Jim McInally's men last night.
"I would love to be there but I don't think the bus from New Zealand would get there on time," he said. "To the players, coaching staff, the board, the supporters and everyone else involved with Peterhead FC – this is what hard work and commitment gets you. Believe in yourselves."
Several famous faces have also thrown their support behind the Blue Toon.
Scottish professional golfer Jamie McLeary, born in the town, said: "I'm hoping Peterhead FC come out on top. Good luck to everyone and I'll be keeping an eye on the result."
And Peterhead skipper and star of TV's Trawlermen Jimmy Buchan added: "Once again Peterhead is back in the spotlight for the right reasons with the Blue Toon in the cup final this weekend.
"I will certainly be cheering on our boys."
Peterhead FC's journey south comes only a month after another Highland League club triumphed over one of Scotland's more established sides.
Dingwall team Ross County defeated Hibs 2-1 at Hampden, sparking jubilant scenes across the Highlands and a victory parade for the returning heroes.
Peterhead will hope their own town centre – already decked in the blue and white colours of Balmoor – will now serve as a parade ground itself.
Over the past seven days, businesses throughout the town have been battling to outshine one another with their window displays in support of the team.
In a poll run by staff at Balmoor which attracted nearly 1,000 votes, club sponsor Genesis Personnel triumphed over nearby Begg Shoes and Bags.
The seasoned professionals at the Hame Bakery on Queen Street turned their hands to creating Blue Toon-theme iced biscuits, and dozens of other stores hung posters, banners and scarves in their windows.
Meanwhile local school kids took part in a banner competition. All the entries will be taken down on the 15 supporters' buses tomorrow morning, and two will be chosen to be displayed inside the national stadium.
A handful of tickets for the Petrofac Training Cup final will be on sale today at Balmoor Stadium between 10am and 3pm.