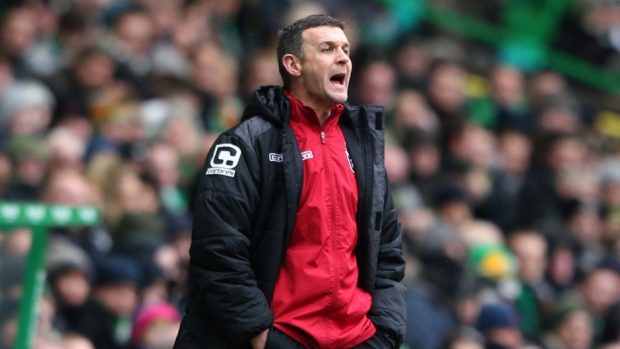 Ross County manager Jim McIntyre believes his players must rediscover a ruthless streak in front of goal to get the points their recent play has deserved.
The Staggies have shown an improvement in recent weeks having clocked up a five-game unbeaten run, although four of those matches have ended as draws.
The only victory during the sequence was the 4-2 win against St Johnstone last month, and McIntyre, pictured, said that was the benchmark performance his attackers must match.
He said: "The confidence levels have grown through the way we're playing.
"We're passing the ball well but the cutting edge is where we need to get better.
"The intent was there. We showed that, just the final bit was missing.
"We showed against St Johnstone how ruthless we can be.
"We need to do that more often and we know that."
Although County failed to get on the scoresheet in Saturday's 0-0 draw against Dundee, McIntyre was pleased with the de-fensive resistance his side showed in recording their first clean sheet since September.
McIntyre added: "At times we're defending really well.
"It's not just about going forward.
"There was one opportunity for Dundee which we were too slow to react to. It was just a ball knocked over the top. It wasn't as if they cut us open, but we didn't react well enough to it.
"It was a golden opportunity for Dundee but other than that, there wasn't too much we gave away.
"Dundee are always a handful at set plays and we had to defend a few of them as well.
"It was certainly an entertaining match.
"Both teams tried to get into the right areas and neither was just sitting in and defending and hoping to hang on for a point."
County midfielder Martin Woods is nearing a return following a back injury, while McIntyre said wide player Chris Burke is also improving following a viral infection, although the former Scotland international will not be rushed back.
McIntyre said: "We've had the results of Chris' scan and they're all clear. He's getting better on a daily basis.
"It could be a slow-burner – we just need to take it a day at a time.
"With a viral condition, we have to be really careful. He's had good days and bad days, but those bad days are getting fewer and fewer, which is a good sign he's on the road to recovery.
"But we'll treat it with kid gloves. Chris will know how well he is feeling. He'll start doing a small bit of work this week and we'll gradually increase it based on how he is feeling.
"Martin Woods had an injection last week and should be in and around the squad for the Aberdeen game on Saturday."