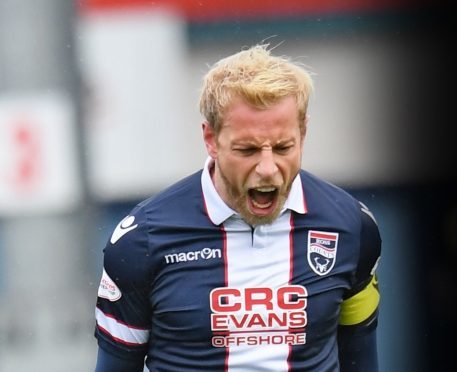 Andrew Davies insists his belief in Ross County's ability to rise to consistently challenge Aberdeen and Hearts for European places sealed his decision to stay at Dingwall.
The former Middlesbrough and Bradford City defender, a phenomenal performer for County during the last 18 months, has signed a new two-year contract extension through to summer 2019.
Davies had previously made public his desire to return to his family base in the north of England before changing his mind and committing to the rest of this season.
As a consequence of his unsettled spell, Davies lost the County captaincy to returning Paul Quinn but has never wavered in his commitment and consistency of performance.
That persuaded manager Jim McIntyre to offer the big 32-year-old from Stockton-on-Tees the security of another two years beyond the summer.
Davies said: "I had to take everything into consideration but this is a club pushing in the right direction.
"Things are working and, with a few more players, we can go even further.
"I look at Hearts and I look at Aberdeen. Rangers and obviously Celtic have a lot of financial power and will continue to bring in really big players. But when I look at the other teams near the top of the table, I don't really see a huge difference between their squads and our squad.
"Obviously, the aim this season is top six – and that's a realistic target. But in the next year or two, I don't see why we can't start challenging for that top four."
Davies, no matter how happy he is in his professional career, would never have put football above family which is why his wife Lucy and sons Hugo and Jensen were central to his decision.
Fortunately for the Dingwall club, all three are now far more settled into Highland life.
He said: "I'm sure everyone was aware of my situation but since the problems of the summer everything has settled down a lot.
"The family are settled and obviously the contract gives security for the next couple of years, which is great.
"Living here is not easy at times but next year it will all be a little different.
"My eldest lad is going to school full time and our baby is one and will be going to nursery. That automatically gives us a little bit more time to spend as a couple. I took that into consideration as well.
"I also think football in Scotland suits me. You get international breaks now and again and the winter break which is fantastic.
"In England it is all about 'how many games can we ram in?' You can play 60 as opposed to 40 in Scotland. It starts to become a lot less enjoyable.
"I'm just delighted to get it signed."