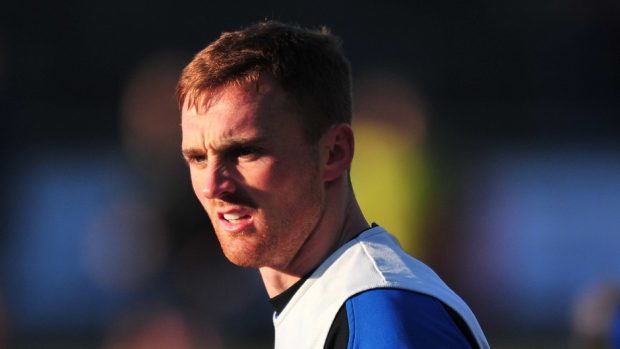 Ross County forward Craig Curran refused to accept concussion could end his football career.
The 27-year-old was hurt in an aerial duel with Darryl Westlake during a 4-0 win for the Staggies against Kilmarnock on August 22, 2015.
What appeared to be part and parcel of every footballer's trade turned out to be more serious.
So serious, in fact, it has taken 18 months, a multitude of treatment and long, dark hours for the Englishman to finally be close to returning to playing the game he loves at his best.
A bump and bruise turned out to be so much more.
Repeated attempts to return were thwarted, as prolonged spells of fatigue and dizziness attributed to the original head knock kept the attacker out.
County manager Jim McIntyre refused to take any risks on his fitness and although the attacker did not give up hope of featuring before the end of the campaign, his final appearance of last season came in January as a substitute in a 2-1 victory against Motherwell at Fir Park.
The former Tranmere Rovers forward returned from an extended rest at the start of this season and although he has made 26 appearances, Curran believes it is only since recent sessions with a muscle release therapist in Glasgow that he has started to believe he can again be the attacking force who scored 12 goals in 39 appearances for County before his injury.
Curran, who could face St Johnstone at Victoria Park today, said: "I've been to see a therapist who has been helping me with me with the bones and muscles in my face where I took the bang.
"That part of the face clamped up and that's where the headaches and dizziness came from. Now that's starting to settle, so it's big for me.
"I go to see woman in Glasgow called Linda Currie who started the treatment.
"That led to a lot more progress because the work she's been doing, myself and the club physio, Kevin Bain, have been doing work to complement that.
"I've had a difficult 18 months and I've only now found someone who can help me. Now I feel like I'm getting somewhere.
"It has been small steps. Little things like my eyesight coming clearer, my energy levels coming back and being able to train a little bit more.
"It's now looking as though I will be back to full health soon. I'm looking forward to just being back to normal."
Curran believes he will emerge stronger following his ordeal, and is confident Staggies supporters have yet to see the best of him.
Curran, who joined the Dingwall side in January 2015 on a free transfer from Nuneaton Town, added: "Some days I've been in a world of my own. But I've kept going. I've been playing games – I've not stopped.
"But I haven't really taken any steps forward. I just got on with things as best I could.
"The concussion people told me to either get on with it or stop playing football.
"That was not an option for me. I was not and am not prepared to give up and I've now found something that's helping me through, I have a drive and determination to get better.
"I've worked so hard to get back playing at this level – my body is in great condition and it's not a problem. I just need to get over this now and physically, I'll be as good as I was at 17."
During the dark days, and there were many, the Englishman contemplated life without football.
Those closest to the Liverpool-born attacker have shared Curran's concern, however he believes he will emerge stronger in the knowledge he never gave up.
He said: "It's gone on longer than anyone expected, to the extent where even I was thinking something needed to change.
"The family have been worried, but they can see a difference in me.
"I can hold conversations, I can concentrate on what people are saying. It's not like they're talking to me and I'm a zombie. I've had questions from family members wondering if it's in my head, and that's a difficult thing to deal with because people can't see it and scans don't show it.
"The fact I've still been there will be good for me in the future. I can look back and think I never caved in to the concussion and I'll get the rewards."