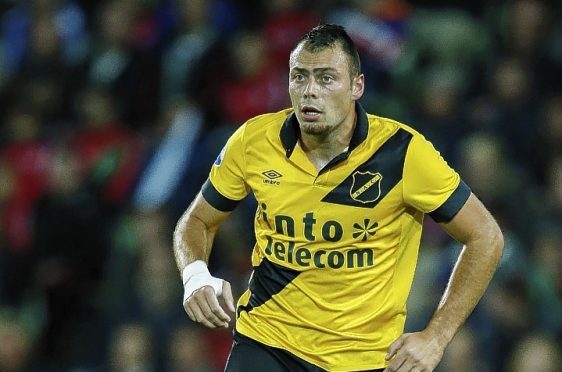 Kenny van der Weg acted on gut instinct as he turned down offers from Greece and Romania to complete an unexpected return to Dingwall.
The Dutch defender was the surprise face in the Ross County squad regrouping for pre-season this summer, having declared his intent to leave at the end of the last campaign.
Having said his farewells, van der Weg found it far harder than he expected to sever his ties with the Staggies.
Group messaging chats with team-mates and telephone conversations with manager Jim McIntyre through the close season kept the relationship alive, despite offers from various European clubs.
The former NAC Breda centre back, at Ross County's La Manga training base in the south of Spain, said: "I thought it was the end of my time at Ross County.
"I had a few opportunities, in Greece, Romania and elsewhere in Eastern Europe but when I thought back to what I had here, I decided this was the best option for me.
"The manager trusts me and believes in me and that is important. It's what I need. That's the reason I came back.
"It feels right. I need to have a good feeling about the club. I had a couple of options but my feeling about them was not 100%. If I don't have that feeling, I don't go and sign there.
"The best feeling I had was here, with these team-mates. It's a brilliant team and a good club. It's important for me to stay another year and do well for the club.
"We're very close as a group and that's important for results. That's one of the reasons I came back as well."
Last season, along with countryman Alex Schalk, van der Weg felt angered by headlines suggesting he hated life in the Highlands.
The comments had been drawn from a light-hearted article in a Dutch magazine, headlined 'Kenny and Alex in Wonderland', that pictured Schalk and van der Weg messing about and monster-hunting by the shores of Loch Ness.
The man from Rotterdam insists he has nothing to prove having committed his future to the club.
He said: "What was said about me last season isn't a problem for me. I know what I said to the Dutch magazine and the context it was said in.
"Everyone who saw the original Dutch story knows that. It was more a fun story.
"I knew what I'd said and the manager believed me. What others might say, I don't care.
"If I didn't like it there, I would never have come back. I love the place, the people and how we work at Ross County. That's important to me."