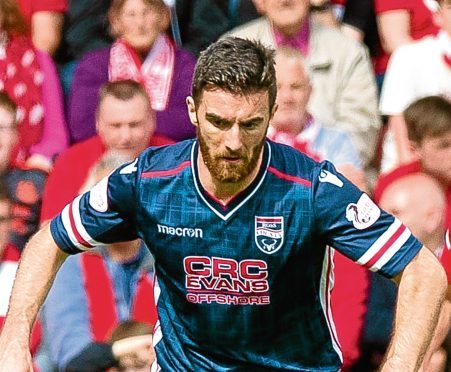 Ross County midfielder Ross Draper insists matches against Celtic will not determine the Staggies' season.
County went down 1-0 against the Hoops on Saturday, with Leigh Griffiths' stunning late free-kick proving the difference between the sides.
The Dingwall men performed bravely against the record-breaking champions but Draper accepts Brendan Rodgers' side, which has now clocked up 64 domestic matches without defeat, is a step up from their regular level of Premiership opposition.
Draper said: "Celtic are a step above anyone. It's quite scary how they're that far above everyone if I'm honest. That's what it is at the minute, 64 games unbeaten.
"Credit to them. They dominate and they don't get lackadaisical or ahead of themselves.
"Sometimes you may think they will surely get beaten with a poor performance in there somewhere, but they keep going.
"The way they play, passing and moving, it's sometimes hard to stay with your man. You have to communicate with each other and be vocal all through the game to try and pass runners on, otherwise they move people on so quickly.
"They keep getting wins and draws and the record speaks for itself.
"Come the end of the season, it doesn't really matter what we do in the games against Celtic. You try and nick a point if you can, and if you can't you just move on.
"Hearts away on Saturday maybe gives us more of a chance to get a result."
Draper felt County's efforts deserved better, with the former Caley Thistle midfielder adding: "It was a little bit hard to take when we did so well.
"You've got to concentrate for 90 minutes to get something out of the game. They've got a bit of quality coming off the bench, starting and throughout the whole squad.
"We will take the positives. We did well and on another day we may have nicked a draw or maybe even better, but we move on."
Despite the sunlight staring County goalkeeper Aaron McCarey in the face as Griffiths approached his free-kick, Draper was quick to acknowledge the craft behind the attacker's strike, with the 29-year-old adding: "I think Aaron said the sun got in his eyes. But he could put glasses on, a cap on and have two goalkeepers in there – you do well to pick it out of a top corner. It's just a wonder strike.
"The sun caused us a little bit of a problem all day, in terms of goal-kicks. Turning around in the second-half it was a little bit better."