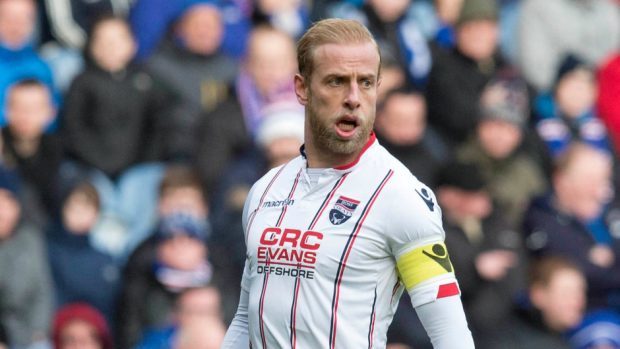 Ross County skipper Andrew Davies hopes the Staggies' football-themed fancy dress Christmas trip to Dublin can be a turning point in his side's form.
County's players made the short trip to Ireland following Saturday's 3-2 defeat against Hamilton Accies, with each of them dressing up as an iconic footballer from past years.
Davies' choice was former Arsenal midfielder Ray Parlour, who he played alongside at Middlesbrough.
The Staggies' defeat on Saturday left them second-bottom of the Premiership, with only one win from their last nine games, but Davies feels the brief break will be beneficial in helping the squad refocus ahead of Saturday's trip to Hibernian.
Englishman Davies said: "It was good fun and it was a release. It is not like the results have not gone our way as we have not been trying – we have been.
"It was a nice rest and break and I think it will do us the world of good. The games coming so quick and fast means we can pick up points quickly and move up.
"I played with Ray at Boro and still keep in touch so it was quite funny sending him a couple of videos. He took it well and I look better than him himself.
"Ross Draper was Terry Butcher with the head band but he cannot get the red paint off – I think it is still on him now.
"It was my birthday when we were out there so it was excellent. It is never great going away when we have lost and a lot of the boys were hurting.
"But it is always good for team bonding and getting away from the place and reevaluating what's going wrong.
"It was a good trip but it's nice to be back and we are looking forward to Saturday."
Davies has grown frustrated with a number of refereeing decisions he feels have gone against the Staggies in defeats to Hearts, Rangers and Hamilton Accies in recent weeks.
The 33-year-old reckons the decisions have had a big say in County's current league position, and he added: "We all look at ourselves after games and say we could've done this better, we could've done that better. But I just think some of the decisions that have gone against us have been absolutely crazy.
"Even going as far back as Hearts at home in October there was a problem when we should've had a penalty.
"Then against Rangers at Ibrox there was another blatant penalty and they are massive decisions because we would've got a draw out of that game. It would have been a good draw and then everyone takes confidence from it.
"We then had the game against Hamilton Accies the other day. It is just like things seem to go against us and we are not feeling sorry for ourselves by any stretch of the imagination. But these decisions are definitely affecting where we are in the table.
"It has just been disappointing we have lost the games where we should have got something but a few decisions have not gone our way. The spirits would be a lot higher if the decisions had gone our way and if we came away with draws or maybe winning."