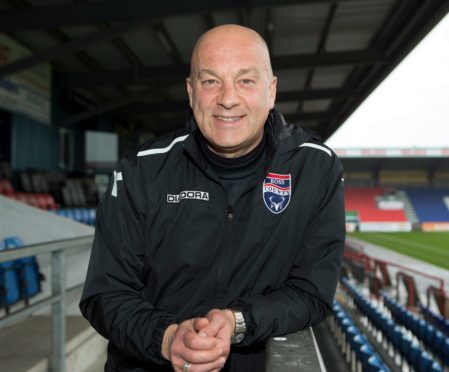 Life as a neighbour of Neale Cooper's was never going to be dull.
Late night runs to the supermarket became a regular order for Michael Fraser, during the pair's time living close by in flats in Inverness.
Goalkeeper Fraser played two seasons at Ross County while Cooper was assistant manager and was shocked to hear of the Gothenburg Great's untimely passing at the age of just 54 on Monday.
The fond memories trip off the tongue for former goalkeeper Fraser, who looks back with a smile on his time living nearby to a Scottish football favourite.
He said: "He had me down to Tesco, running errands for him all the time. I did it as well. That was when I'd just met my Mrs and she was wondering what was going on. I said 'that's my assistant manager!'
"We lived in flats on the same street and he'd always have me picking stuff up for him or giving him lifts to training. He would pop round all the time. You'd hear the door and there he was – probably bored and just wanted a cup of tea and a chat.
"He had great stories to tell and for guys like me – Coops was a far better player than I was and played in some good teams. He had so many good stories about all the mad stuff he got up to and about Sir Alex Ferguson. He played for Fergie and it doesn't get much better than that."
As assistant to Derek Adams, Cooper played a crucial role linking the manager to the dressing room, frequently taking the "bomb squad" – those players not involved in the starting line-up – for extra training. Most coaches would dread such a task but Cooper knew how to make it fun.
Fraser said: "It wasn't the best job to be given as the guys probably aren't in the best frame of mind because they're not playing. I was in that position a few times. But he was always enthusiastic and you hardly ever saw him in a bad mood.
"Ivan Sproule was among the group – he was a real character but in a good way – but he was never happy. You're thinking things aren't going to go well because there's seven or eight of us that are raging but within a couple of minute, Coops had everyone laughing. Not a lot of guys could do that.
"He was a proper footballer in a brilliant team. He couldn't walk through Aberdeen without people recognising him but to speak to him, you wouldn't know that. Sometimes you meet guys who have been successful players and you're disappointed with the way they behave as a person. You could never say that about Neale."
The County players that worked with Cooper were united in grief on Monday after the news emerged and Fraser has added sympathy for one in particular. Alex Cooper, Neale's only son, was a team-mate in that dressing room and someone Fraser rooted for.
He said: "He's such a quiet, hard-working guy, You always wanted to see him do well because he deserved it. He's got his mum and his sisters but I'm hoping he will be OK."