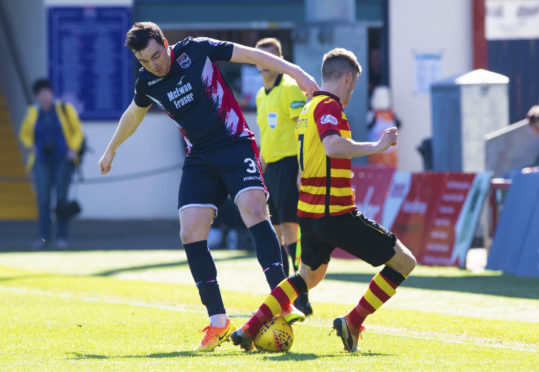 Sean Kelly feels like his season is only beginning – just as Ross County close in on a silverware double.
The former St Mirren and AFC Wimbledon full-back returned to action in January after a groin injury, but broke down again soon after.
Earlier this month, he finally pulled on his competitive boots again and has made a big impression in four starts since helping County to a vital Highland derby win in Inverness.
County can win the Championship title this weekend if they beat or draw with Ayr tomorrow (Friday) and then Inverness defeat Dundee United on Saturday.
Kelly is just eager to make up for lost time, having had large chunks of two seasons snatched away from him.
While team-mates around him are feeling the late-season fatigue, the 25-year-old defender is just thrilled to have come through six hours of football without a problem.
He said: "It's great to be back involved, helping the boys, and we're looking forward to Friday. It will be another tough one.
"We're looking to get as many points as we can and secure the title as quickly as possible.
"Last time I came back into the team, I was straight into the Motherwell game in January. Then I knew after the next game, against Alloa, something wasn't right.
"But this time I missed the Alloa away game and IRN-BRU Cup final before coming back into the team. I feel good now and I'm coming in towards the end of the season.
"Last year, I came back for the last game of the season, so it's been like two halves of two seasons for me.
"It feels like two seasons have been taken away from me, which has been frustrating mentally. But it's been great watching the boys getting wins and that's the second best feeling, knowing the team are winning games. I was equally happy for them.
"I feel fresher mentally right now, coming back in, but not so much in terms of fitness, especially in the last 20 minutes of games – but I'm getting there.
"At one stage, I had only played one 90 minutes in five months, but I've just come through four games in 11 days."
Kelly concedes he's not at peak form, but his priority is to shut out opponents and two successive clean sheets for Scott Fox and his defensive unit suggests he's playing his part.
He explained: "I knew it would be hard for me to get through games, but right now I'm just trying to do a job rather than express myself.
"By the time I'm fully fit the season will be over, but I'll keep ticking over in pre-season. There will be no break for me.
"It has been a long season and in the Championship you play through any international breaks and the winter break, so you feel as if you need a break. I've obviously had a long time off, but that can be draining as well."
Ayr, who won League One last May, need just one point from their last four fixtures to secure to promotion play-off berth.
And Kelly knows the Honest Men will be formidable opponents for this TV showdown at Somerset Park.
He said: "Ayr have had a great season and have been up there throughout. They gave Dundee United a really hard game last Friday (a 2-1 defeat at Tannadice) and were unfortunate not to get anything from it.
"We know what to expect from them. It will be another tough one. A win on Friday won't mathematically do it, but it would obviously be very difficult for Dundee United. We have three games to get three points.
"Everyone here knows the targets that were set at the start of the season."