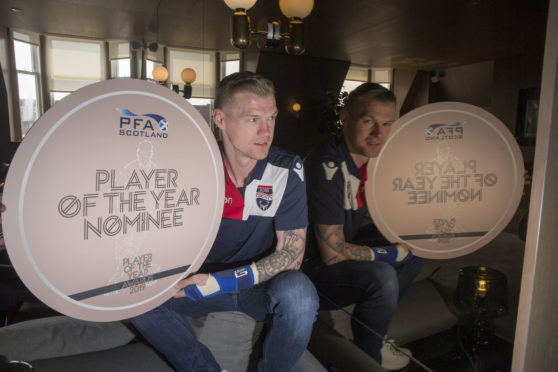 Goals are the currency Billy Mckay is used to dealing in.
Seventeen in 24 league games this season has earned him a player of the year nomination, even with a broken arm ruling him out for the last month.
His strikes have been integral to Ross County making an immediate return to the Premiership, potentially giving Mckay another crack at a league where he averages better than a goal in three games.
Across spells with Caley Thistle, Dundee United and the Staggies in the top flight, Mckay has found the net 71 times in 183 appearances. Figures like that underline his importance and crucially, when it comes to contract negotiations, prove he can cut it at that level.
Mckay said: "To play another season in the Premiership would be good. I scored a lot of goals for Inverness when we were nowhere near the bottom of the table and I'm confident I can do it again.
"It's well-documented what a difficult few years I've had. But I've got my form back and I've been fighting at the right end of the table. It's inspired me to have a real crack at it next season; I've scored goals in that league and I believe I can still do it.
"The priority was to make sure we were up first, but I'll be having discussions with the managers and see what they want to do. As things stand nothing has been said but I'm sure in the next week or so, we'll kick things off. I've loved it up here, the family is settled and my kids go to school here. I will be looking to sign again and hopefully we can get that done soon and kick on for next season."
County's promotion to the Premiership snaps an unwanted streak for Mckay, who had been relegated in four consecutive seasons with Wigan, United, Inverness and County. The Staggies have become only the fourth team in 20 years to bounce straight back from relegation to get promoted, following Inverness in 2009, Dundee in 2014 and Hearts a year later.
While Mckay's goals have him second in the league charts, the contribution of Josh Mullin is steadily garnering more praise. Eyebrows may have been raised when he chose another season in the Championship ahead of following Livingston into the top-tier, however a return of 14 goals and 21 assists in all competitions mark him out as a signing of the season candidate.
Mckay said: "He's been massive for us – his stats alone are incredible. He's scored big goals for us and not just produced at certain times. It's in big moments – he came off the bench in the IRN-BRU Cup final and scored twice. He's set up a fair few goals for me and I've no doubt he'll be in the team of the year.
"I didn't start the season firing. It was the Dundee United game away when we linked up really well; he set me up twice and I set him up for a goal. From then onwards, we've had a good relationship.
"When Josh is out wide, I know he's going to put a good ball in the box. It's then all about getting your run right."
Mckay, 30, is up against the rest of the top four goalscorers in the Championship for the player of the year award. Pavol Safranko, Lawrence Shankland and Stephen Dobbie are all vying for the same honour from PFA Scotland on May 5 and scooping that honour would cap off a remarkable campaign.
He added: "It's good to get nominated, given I've missed a few games now. With the injury I thought I'd missed the chance.
"For me personally, it's been a good season, playing regularly and scoring goals at the right end of the table. We've won the league and cup this season and every player has contributed."