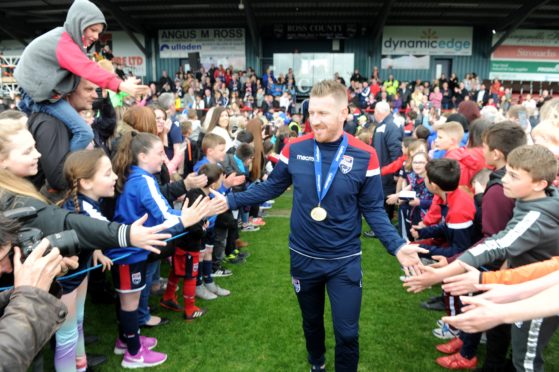 Michael Gardyne is ready to prove he is the boy who never grows old after winning another two-year deal at Ross County.
The evergreen Staggie, insisting he is known in club corridors these days as 'Peter Pan', was tied up yesterday on new terms through to summer 2021.
The incentivised deal amounts to a massive vote of confidence in the 33-year-old's performances, fitness and durability after a title-winning campaign in the Championship.
Gardyne, counting loan spells, is now in his fourth stint at County and holds club records for his 392 appearances and for his 71 goals.
The new contract will also take the Dundonian through his testimonial season next year after amassing nine years' service to date.
Gardyne said: "It is a good show of faith from the club and good for me, personally – a wee bit of security. The managers just made it clear I deserved two years because of my performances.
"I've known both Stuart Kettlewell and Stevie Ferguson a long time, but they told me it wasn't a sentimental gesture – they just felt I deserved it.
"To be fair, I feel like I do as well. These days in football, with sports scientists and stuff like that, age is just a number now. I'm 33 but feel like I'm as fit and playing as well as I ever have been.
"Over the last couple of years, I've begun to help the younger players a little bit. I've played 450 games an want to pass that experience and knowledge on.
"The management say I can be a captain in a different kind of way and that's a nice compliment. But I'll still always be the joker – as I always say to the lads, I call myself Peter Pan. That's my nickname now. Never grow up, it's a trick!"
Gardyne is confident County will prosper in the Premiership 12 months on from the heartbreak he experienced on relegation.
He said: "The way it ended at the close of last season, with all the emotion and tears, everyone who saw the pictures will know how much it meant to me.
"To have another chance with the club in the Premiership at 33 is fantastic.I'll obviously enjoy my little rest, because I'm an old man now, but we'll go again and try to build – and obviously it needs to be better than last time.
"Ketts and Fergie came in at the later stages and it was out of their hands in many ways, keeping us up, but it's now their team and their ethics, everything.
"If we all go about our business as we did last season, players and management, I'm sure we'll be fine."
County co-manager Steven Ferguson said: "Midge is approaching his testimonial year but we decided to offer Midge two years because he's earned it, not just for his commitment but for his performances.
"It is an incentivised deal and, if he is playing and contributing, he will stay for two more years at least and his testimonial will fall in between the two seasons.
"It is good for the area and good for the club – not many guys are earning testimonials nowadays.
"We've no qualms in getting Midge tied up for that duration. He is one opposition managers always fear can hurt them."