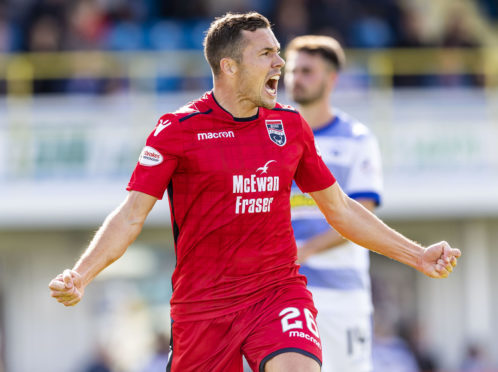 Don Cowie will remain a big part of Ross County's Premiership plans next season – despite off-field responsibilities.
With the former Scotland, Cardiff City and Hearts midfielder entering the twilight years of his playing career, there was speculation he might hang up the boots this summer.
Alongside defender Liam Fontaine, Cowie has also taken charge of coaching and managing the Staggies' under-18's team.
But co-manager Steven Ferguson insists the 10-times capped midfielder will be of huge value to County on the park having proven his worth during the Championship run-in.
Cowie, who began his association with his local club while at primary school, returned last summer after a 12-year absence and fruitful career in England.
Ferguson believes Cowie's athleticism, knowledge and experience will be invaluable in the top flight.
He said: "Don is very much a part of our plans for next season. We had a view for him to be here more than one season with the contract he signed last year.
"There is that cross-over between playing and coaching in with the under-18s and academy, but Don himself feels he can continue playing.
"Stuart and I, as a management team, believe he still has something to offer the first team, especially given the way he finished last season.
"We had talks at the end of the season, but it was a no-brainer regarding him continuing. In the last 10 games or so, Don was very influential and played a huge part in us getting over the line and winning the league.
"He is still very much player-first in outlook when it comes to being player-coach, but he is dipping his toe in the coaching and having someone like him involved, we feel, is part of our identity as a football club."
Cowie's know-how, having played much of his career in the top leagues in Scotland and England, will be crucial, Ferguson feels.
He said: "When Stuart and I were recruiting last season, we genuinely felt we were taking in people who could win the Championship.
"You need different strings to your bow from the Championship to the Premiership, but we also felt we couldn't have that huge turnover of players coming and going.
"So we signed players we felt were equipped for both the Championship and Premiership – and Don was definitely one of them.
"His CV and playing career tells you Don knows how to play top-level football. We have other guys like that, but Don's experience and know-how in that environment will be really crucial."