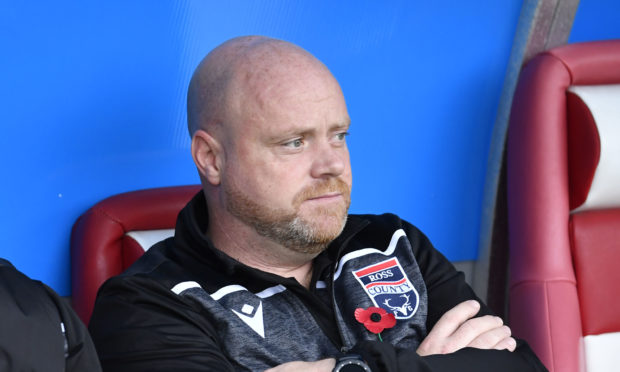 Ross County co-manager Steven Ferguson accepts the Staggies are still adapting to the challenge of facing the Premiership's strongest sides.
County have made a steady return to the Premiership following their promotion from the Championship last season, and sit sixth after 12 matches.
Of the four matches the Staggies have lost, only the 4-1 home defeat to Livingston in August came against an opponent below them in the table, with the Dingwall men also suffering heavy defeats against Celtic, Rangers and Aberdeen.
Having faced every team in the league, Ferguson feels Saturday's visit of the Dons to Victoria Park is the type of fixture County must strive to perform better in, and he said: "We had a meeting with the players after the first quarter. It was just an informal chat to paint the picture of how we felt it had gone up to that point.
"It is true we've found it difficult against Rangers, Celtic and Aberdeen. That's something we're going to need to improve on because we've still at least six games against them.
"That's a quality issue. We're coming up against some really top players and if you get them when they're on song and you're not maxing out in your own performance, that gap becomes really big.
"We need to make sure we come up with some sort of formula, but we also need to keep the formula we have when playing teams around us. We do look more comfortable in those games than the other ones.
"That's the challenge of the Premiership and what we're up against."
Although the Staggies enjoyed playing on the front foot throughout the majority of last season's Championship-winning campaign, Ferguson reckons County are still searching for a better attack to defence balance following their step up.
He added: "The players' natural thought is always to play, always thinking about blue sky – the fun parts.
"What we need to do is strike that balance and recognise when is the right time to play and when is the right time to be compact and ugly.
"At the moment, we're probably getting a little bit lost in that and playing sometimes at the wrong time.
"On other occasions, we're maybe missing opportunities to play. There are different ways you have to play and that flexibility within 90 minutes is so important."
Despite County occupying a top half position the Highlanders have not recorded a victory in their last six matches, however Ferguson does not feel his side is far away from a winning formula.
He added: "It is certainly no lack of effort or endeavour – we could never question that with the group of players we have.
"We're probably just questioning that little bit of quality, both in and out of possession. If we could just tidy up a few of the small parts of the game we'd give ourselves a better chance of winning, rather than fighting for a point."