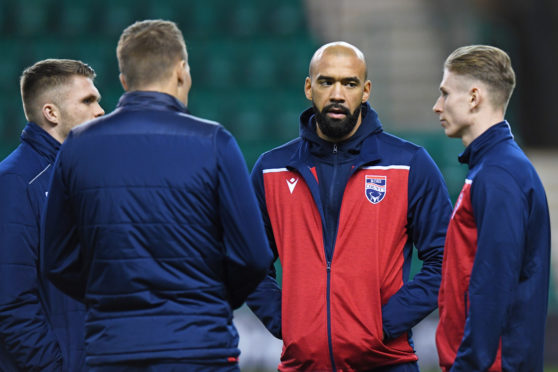 Liam Fontaine believes Ross County must find new levels of steel and consistency for the final 12 Premiership tests awaiting them.
From the high of a tremendous home win against Livingston to the low of a routine beating by hosts Hibs in midweek, the Dingwall team's erratic fortunes this season were summed up in the space of a few days.
Now, with bottom-six rivals St Johnstone visiting today, seasoned campaigner Fontaine is looking for a resilience to match the talent he knows resides in his club's dressing room.
The club vice-captain, aiming to build on a valuable clutch of five home wins in the league, stressed: "I think you have to be resilient and bounce back when you know, individually as a player and as a group, you've not reached the level that's required.
"I think it should be a personal pride thing, coming back for the next game and showing what you've got.
"We know we've got it, and we know we can do it, but the issue has been us not doing it on a consistent basis. We need to realise as a club and team what's needed in every single game and the levels you need to hit in doing that horrible side of the game, to put yourself in the game.
"Then the nice side of the football can follow.
"But that early part, that early workrate, intensity, aggression – all the key words you hear in football – need to be there every single week."
Those traits were there for a crucial win against Livi and Fontaine wants that performance to be the template again this weekend.
He said: "All of those things I'm speaking about were there against Livingston in our last home game. We knew obviously the style of team they are. It was always going to be that up and at 'em type of battle, with 11 men against 11 men.
"We owed Livi one from the two previous defeats this season and responded. We knew we couldn't fold to them again. Every one of us stood up to that fight, which was needed.
"Hibs in midweek was a completely different style of game because they have cleverer players in that sense. Livi do well at what they do.
"St Johnstone is just a huge game. All 12 games we will play from now until the end of the season will be huge.
"We need that reaction to the Hibs defeat and then the challenge is, can we reproduce it the following week and the following week after that?
"We need to suss out every team, their weaknesses and strengths, and how we beat them. We know what we're capable of but we have to produce it."