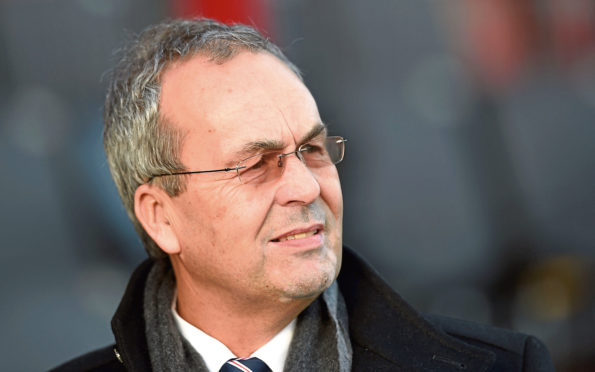 Ross County will use the government's job retention scheme to help fund the wages of staff during their current furlough period.
The Staggies' squad has been on leave for the past fortnight, with the Dingwall club now effectively in shutdown amidst the coronavirus outbreak.
County have activated the government's furlough scheme, which will covers 80% of the salary of each member staff up to a monthly cap of £2,500.
The Staggies have committed to paying the remaining money to ensure contracts are paid in full, which the club has guaranteed until at least the end of April before a further review.
Scottish football's governing bodies have yet to decide on how the current season will be concluded, with UEFA yesterday warning member associations they risk losing out on European places if they decide to end league campaigns prematurely.
Belgium earlier this week became the first country to declare its top-flight champions, with Club Brugge handed the Pro League title.
With UEFA maintaining a stance which encourages campaigns across Europe to be completed during July and August, Staggies chairman Roy MacGregor is concerned about the effects at the lower end of the scale.
MacGregor said: "There is some challenge between UEFA and national leagues.
"I think the challenge here is that UEFA will be seen to be looking after the rich countries.
"With the European competitions and international football, and television and sponsorship which comes with that, they have some things to protect there.
"There is the contradiction of the national leagues, where you've got everything down to part-time clubs trying to survive.
"I think there is going to be a day of reckoning in there. Is it the national organisations that are going to come out on top, or are they going to let clubs who are not involved at the top level survive?
"That day is coming – although I don't know when."
A letter sent to all 55 member nations from UEFA, which was also signed by the European Club Association and European Leagues said: "We are confident that football can restart in the months to come – with conditions that will be dictated by public authorities – and believe that any decision of abandoning domestic competitions is, at this stage, premature and unjustified.
"Since participation in UEFA club competitions is determined by the sporting result achieved at the end of a full domestic competition, a premature termination would cast doubts about the fulfilment of such condition.
"UEFA reserves the right to assess the entitlement of clubs to be admitted to the 2020-21 UEFA club competitions, in accordance with the relevant applicable competition regulations."