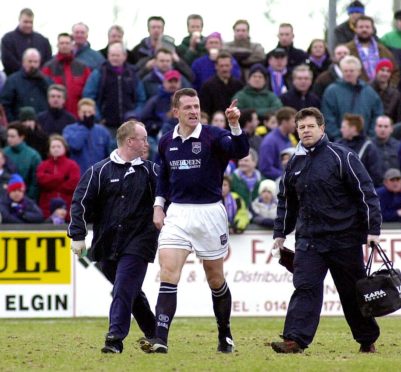 Former Ross County defender Brian Irvine is concerned for the prospects of players left out of contract during the coronavirus crisis.
The Staggies yesterday released 14 players from their contracts, including senior players Richard Foster, Sean Kelly, Lewis Spence and Declan McManus.
With concerns some teams may not be able to play matches until supporters are allowed back to grounds, Irvine fears the lack of opportunities will worsen the already painful experience of being released.
Irvine said: "Without dramatising it, I would be concerned if I had been released.
"There is never a good time anyway to be released from your contract.
"When I was told three weeks ago I was being put on furlough from my job, I had a flashback to times I was released as a player.
"It was nowhere near the scale of those times, obviously being released as a player is a lot worse.
"In the normal circumstances it's not a good time, but I think the current climate just adds to it.
"I don't want to be negative for anyone in that position, but it's certainly not a good position for anybody to be in.
"Being released is the worst thing for a football player, and now it has just been exacerbated."
Irvine was released from both Aberdeen and Dundee during his playing career, which ended with a spell at County prior to his retirement in 2003.
Irvine insists he was fortunate to pick up new clubs quickly, but the 54-year-old knows others will not be so lucky.
Irvine added: "If players are fortunate to have something lined up it will be OK, but not everybody is in that position.
"When I left Aberdeen I didn't have any club sorted, so there was a wee bit of uncertainty.
"It was relatively quick. I was down at an A-licence coaching course down at Largs at the time and there were three or four managers who spoke to me which reassured me I was going to be OK.
"I had three or four options. I spoke to Alex McLeish, Paul Sturrock, John McCormack and I had spoken with Roy MacGregor previously.
"It wasn't as bad as it can be. When I went to Ross County from Dundee it was the same again.
"If you know there's something in place it's not really a concerning time, but for guys with no idea of where they are going to go it's very uncertain – it's probably the worst time for a football player ever."