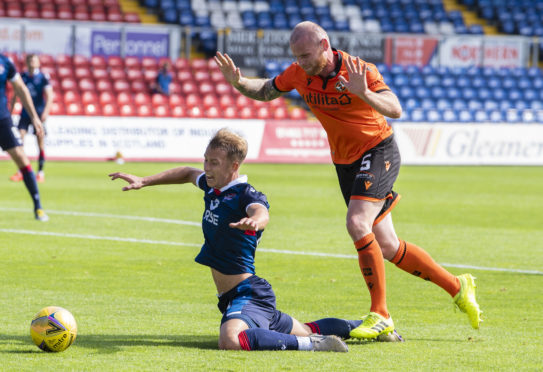 Ross County manager Stuart Kettlewell has revealed midfielder Harry Paton reported a dead leg following a challenge for which he was booked for diving against Dundee United.
Paton went to ground after running at United defender Mark Connolly during the first half of Saturday's game, which County went on to lose 2-1.
Referee Craig Napier brandished a yellow card for the Canadian, which left Kettlewell incensed following the game.
Although Paton's injury is not expected to rule him out of Saturday's trip to St Mirren, Kettlewell feels the impact proves contact was made and absolves the 22-year-old of any wrongdoing.
Kettlewell said: "Of course you're a bit irked and angry at the time, but when your player is getting treatment on a dead leg on Monday morning from the tackle that was given as a dive, that's a problem.
"The other aspect is Harry Paton is probably one of the most honest pros I have ever come across in my life.
"You actually see our guys here in training kicking lumps out of him at times, and he just picks himself up continuously. His attitude and application for the game is incredible.
"The penalty is one thing, but the biggest aspect for me is when somebody says one of your players has gone down and shown simulation.
"I'm somebody who has never taken a dive in his entire life and pride myself on that, so that annoys me."
Kettlewell says the Staggies decided against lodging an appeal against Napier's decision, adding: "From looking at the highlights, it was one of those situations where I don't think the camera angle is particularly great.
"I believe if we appeal that one we will simply be told it's inconclusive from the camera angle, and they will go on the original decision from the referee being in the best position.
"If you look at reactions from players and managers, that probably tells you what even the opposition thought."
County's Premiership rivals Celtic and Aberdeen have been charged by the Scottish FA following breaches of Covid-19 rules, with the clubs to learn their fate at a hearing next Friday.
Kettlewell, whose side visited both clubs during pre-season, says the clubs should not be punished for the actions of players.
He added: "We have been to Parkhead and Cormack Park for games over pre-season and I can tell everyone categorically that these teams are doing things right.
"Their staff have been first class, taking the situation seriously and done absolutely everything to the letter from what I have seen. I'm not going to start criticising Aberdeen and Celtic – far from it.
"It's very difficult to control players when they're away from the ground. I'd appeal to the common sense of players when they are doing something that's not right – we all have a sense of when that is.
"I don't believe clubs should be punished for the actions of an individual or a minority of players."