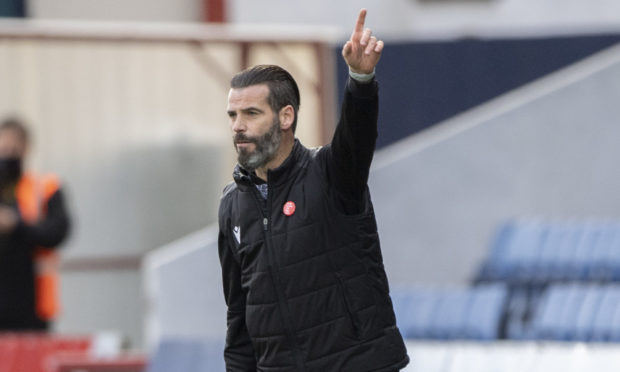 Ross County manager Stuart Kettlewell has disputed calls to punish teams who cannot fulfil Premiership fixtures due to coronavirus.
County make the trip to Fir Park on Saturday to face a Motherwell side who have not played in nearly a month, with their last two scheduled opponents Kilmarnock and St Mirren unable to field a team due to Covid-19 on each occasion.
SPFL rules state teams must fulfil a fixture as long as they have 13 registered players available, one of which must be a goalkeeper.
Well coach Maurice Ross has argued teams should be awarded three points should their opponents call off, however Kettlewell feels that fate would be unfair on clubs who are doing their utmost to guard against the virus.
Kettlewell said: "I think it's exceptionally harsh, I really do.
"I don't think there is any club in Scotland that is actively out there trying to catch a deadly virus. I don't think any players are actively seeking to get it.
"Every club I've been to is taking it incredibly seriously. Everyone coming here has spoken so highly of our set-up.
"It is really naive to think anybody out there is thinking differently.
"We did have a few setbacks in the early weeks and I think Scottish football, in general, has learned a lot of lessons from that.
"The outcome points deductions can have on people's seasons and livelihoods as well, it can be massive come the end of the season."
Kettlewell is due to become a father in the coming days, and he says players and staff are all firmly aware of the wider implications in their day-to-day lives.
He added: "I'll use myself as an example – I'm on red alert for my wife ready to give birth.
"We're trying to manage the other kids we have to make sure they're not in contact with anybody who has the virus. We're all thinking about it.
"Hopefully it doesn't happen, but if anybody at Ross County comes down with it, it is certainly not going to be because of us actively not following the rules.
"If you take that into consideration, there probably needs to be a bit of common sense here.
"A lot of us have wives and kids at school, so there is any number of ways the virus could be passed about.
"We speak to our players about not going into situations they can't control – coffee shops, general shops, areas where you can't control social distancing.
"The guys have been very mindful of that."
The issue of crowds at matches has also resurfaced, with County's Premiership rivals Aberdeen having an application for their match against Celtic on Sunday to host 1,000 supporters rejected by the Scottish government.
The Staggies staged a test event with 300 fans for their own game against the Hoops in September, however Kettlewell accepts the possibility of further games being played in front of crowds is outwith the Dingwall outfit's hands.
He added: "If you ask all the managers, they will say the same. All the players will say the same.
"We want out supporters in the ground, we want an atmosphere and the excitement that generates.
"The political answer is we do have a hierarchy at the club involved in these discussions, all led by the Government, then the SFA and then filtered to the football clubs.
"We can say our piece but I don't know when it is going to change unless the Government deems it safe.
"We did a test match in a very successful manner and there was a wee buzz about the place with supporters in against Celtic, albeit just 300.
"But the bigger picture is the issue. It's not so much what's happening in Dingwall, it is what's happening throughout Britain."