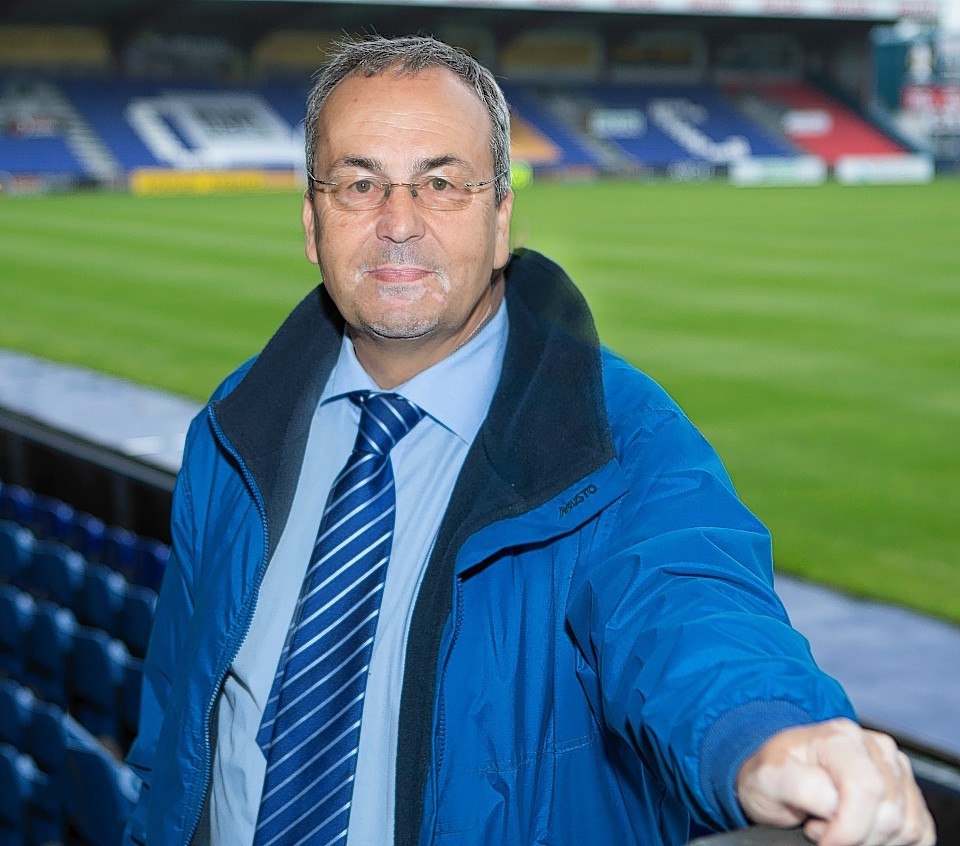 Ross County chairman Roy MacGregor will be forever grateful for the contribution of the Adams family.
Manager Derek led the club to two promotions and the Scottish Cup final, while his father, George, who was director of football, streamlined the club's football operation.
That is why the decision to relieve them of their duties was the toughest MacGregor has made. But tough times call for difficult decisions and MacGregor is convinced it is time for a fresh approach.
MacGregor informed the pair of their dismissal on Wednesday night due to "interests both on and off the park", with the previous night's League Cup win over Stranraer ending a run of four straight defeats.
The news marked the end of Derek's second spell as manager at Victoria Park, with a stint as Hibernian assistant manager in between, while his father George's nine-year tenure as director of football also drew to a close.
With the father-and-son duo guiding County to their maiden Scottish Cup final in 2010 before gaining promotion to the top flight for the first time two years later, MacGregor admits the decision was extremely difficult to make on both a professional and personal level.
MacGregor paid tribute to both, saying: "In the life of football clubs sometimes change needs to happen and in the life of Ross County we just felt change for a number of reasons had to be made.
"On a personal basis it's probably been the most difficult decision I've made in football because not only were George and Derek personal friends, they gave this club so much history and in many ways the club wouldn't be where it is today if it wasn't for the contribution of these two gentlemen.
"The manager was a player here and I followed most of his career one way or another through to making him manager at the age of 32. I had every confidence in his ability to manage and we got more than we had ever hoped for.
"George has been involved with many football clubs and at Ross County we needed to understand what the football business was about at the sharp end. He was a consultant and a lot of things more than just a football director.
"George was a major contributor to the development of this club even before he was football director, in his time with Rangers and Celtic.
"This goes back more than a decade, so to think that a change has to be made is a fairly serious situation. But we feel in interests both on and off the park, this is the right time to make a change.
"I have the utmost respect and goodwill for that team and I wish them both the very best in wherever they end up in football. The impact from both of them has been huge and more than anyone will understand."
MacGregor insists the Dingwall club must continue to meet the growing expectations of its supporters, in the club's third season in Scotland's top-flight. He added: "Today our challenges are different. George and Derek need to reinvigorate themselves and Ross County need to reinvigorate themselves. Relationships are not things that come easy. One of the secrets of success here was strong relationships but we have different circumstances today.
"We have different challenges. We have very educated football supporters, very demanding fans in the Highlands and I'm talking about both clubs here who need to be invigorated to come to football because there are so many other things to do.
"There was disappointment from both sides and particularly the Ross County side. But sometimes the chemistry has always got to be right for things. I'm a great believer that alignment from the boardroom to the supporters is pretty important in the development of a football club. I think that alignment was not right and we just felt this was the right time to make a change."