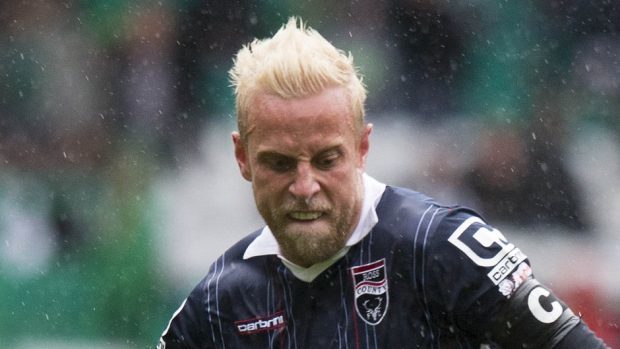 Ross County defender Andrew Davies has scrapped plans to return to England to be closer to his family and will stay with the Staggies.
Davies, who has a year left on his contract, had been given permission to look for a club closer to his hometown of Stockton-on-Tees earlier this summer as his wife Lucy failed to settle in the Highlands since the former England under-21 international's move from League One club Bradford City last year.
The 31-year-old captained County to their League Cup win against Hibernian at Hampden last season, however manager Jim McIntyre gave the armband to fellow defender Paul Quinn once Davies outlined his desire to leave.
No move came and Davies will remain with the club following talks with McIntyre and his family. He said: "It has been difficult. Midway through last season I spoke to the manager and mentioned my situation, but it has been quite tough since I've been up here with my family.
"Me and my wife have just had a baby, and being up here was quite hard because my wife didn't have much help.
"We tried to resolve it in the summer but nothing quite happened. It was always going to be a situation where the manager understood what was going on.
"He's been absolutely fantastic and made things very easy for me.
"I said right away that if I stayed I was going to be fully committed to the club in the same way as I've been in the last six months, so nothing has changed.
"I hope the manager thinks I'm a vital part of the team and he never wanted me to go in the first place.
"Things could have changed, but I talked to my wife and we agreed we would find the right way for both of us."
The defender has not ruled out the possibility of remaining at Victoria Park beyond next summer and added: "We're going to try different things, my wife is going to spend more time with her family down there – just getting a breather really.
"Me going home all the time, I don't think is good for me but if my wife can get herself away for spells, that will be a big factor.
"The chairman of the club has been fantastic with me, he's helping me in a massive way and I'm sure that will make a big difference.
"Who knows what will happen in the future? Things can change quite quickly and we could end up being here for another two or three years, so it is not a given I'll go at the end of this contract as I enjoy it here, I really do."