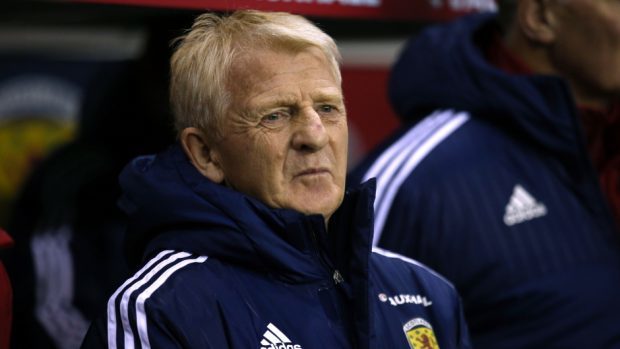 If Gordon Strachan felt any sense of vindication after Scotland took maximum points from a crucial World Cup qualifying double-header he hid it well.
Not long ago the national team appeared doomed to yet another failed campaign with only four points from the opening four matches in Group F.
A large chunk of the Tartan Army felt it was time for a change and Strachan, in all likelihood, would have walked away had Derby County attacker Chris Martin not scored an 88th-minute winner against Slovenia at Hampden in March.
That last-gasp victory breathed life into the qualifying campaign with the Scots following up with a morale-boosting home draw against group favourites England in June before the victories against Lithuania and Malta.
Strachan's men are fourth in the table, but victories against Slovakia and Slovenia next month should guarantee a play-off spot as one of the eight best runners-up from nine groups.
Strachan has hushed his doubters, but the 60-year-old understood why some Scotland supporters wanted him out after losing patience with the team following the poor start to the World Cup qualifying campaign.
He said: "I can understand that, I don't have a problem with that. For a lot of it I don't take any offence, as long as it's done in the right manner.
"I've no problem with people questioning things as long as it's in the right manner and not personal that's fine.
"I'm pleased with where we are now, I would never have said this was impossible but it was going to be hard.
"But the players have shown they can deal with the pressure.
"It's pleasing when I am looking at players in the dressing room after matches and everyone is clapping and looking forward to the next game with each other.
"They are talking and giving each other a round of applause – so that's good – and I'm pleased watching them and the staff enjoying themselves."
Should Scotland fail to make the play-offs, last year's dismal 1-1 home draw against Lithuania and Harry Kane's late equaliser for England in June will be forever cursed.
But, for now, an unfamiliar feeling of hope and optimism has enveloped the Scotland team and the Tartan Army.
Next month's home match against Slovakia is already a tantalising prospect, but the Scots will have to play much better than they did when they went down 3-0 in Trnava last October.
Strachan said: "That was a strange game. We got into the positions we wanted, but the final pass wasn't good enough while their first shot on goal went in the back of the net. But there are things coming through at the minute that make us all excited and the young players give us real hope.
"Again, it's in certain areas. On the right side of midfield I could have picked four – any one from four that would have done a great job there."
Strachan is relieved he will have captain Scott Brown available for the visit of Slovakia to Hampden on October 5.
The Celtic midfielder was a booking away from a suspension but made it through Monday's 2-0 victory against Malta without picking up a costly yellow card – despite claims to was spat on by Malta defender Steve Borg during the encounter. Strachan added: "I think there was an element of the players couldn't commit 100% to everything.
"We all saw many times where I was thinking someone had to put a foot in. But when it went to 2-0 and the game was finished the players were determined to not get booked."