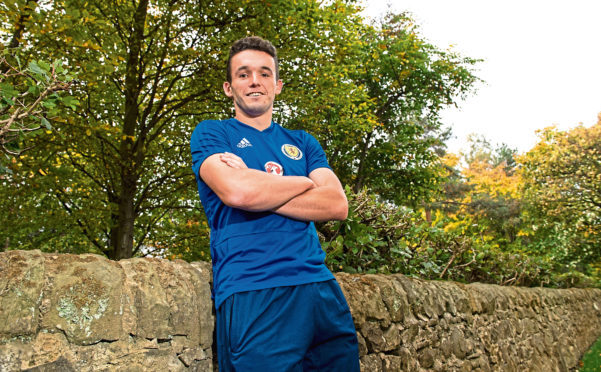 Scotland midfielder John McGinn insists the national team must be prepared to accept the criticism coming their way following last week's defeats against Israel and Portugal.
The Scots suffered a humiliating 2-1 loss against Israel in their Uefa Nations League match in Haifa last Thursday, before going down 3-1 at home to Portugal in a friendly on Sunday.
Manager Alex McLeish has come under fire for his persistence with a 3-5-2 formation, although he switched to four at the back for the visit of Euro 2016 champions Portugal to Hampden Park.
With the Scots' hopes of securing top-spot in Nations League Group C1 – and a place in the Euro 2020 play-offs – now hanging in the balance, McGinn says his side must put the past them and silence the critics when they face Albania and Israel in their crucial double header next month.
McGinn said: "It is a test for us. You either go under and crumble or you puff your chest out and try and show what you are made of. I think over the piece we managed to do that.
"You are willing to take the praise when it comes so you have to be willing to take the criticism when it comes and it has been fully merited.
"We know we need to do better. We need to go back to our clubs and get our confidence up.
"On the park it felt a lot more solid against Portugal. We were restricting them but more importantly we were causing them problems up top.
"I don't know what the manager wants to do next but whatever we do we are going to work as hard as we can to do what this country is craving and that is to get back to the big time. It is not going to come overnight but we need to stick together and keep going.
"We are fully supportive of the set-up and we are enjoying it."
McLeish has lost six of his eight matches since returning for a second stint as national team boss earlier this year, however Aston Villa's McGinn feels some difficult friendlies during that sequence have been a factor in the poor run.
The 23-year-old added: "We have had a lot of difficult games against top opposition since the manager has come in. We have played against some of the world's best teams.
"There are arguments for and against. The competitive games are the most important and we would rather have had the Portugal performance against Israel – if we had done that I think we would have come away with the win.
"The likes of Portugal is the level that you want to get to. You look at these players – how agile they are, how powerful they are. We have experienced that from the Peru and Mexico games as well as the ones against Belgium and Portugal. But we have to take those lessons on now and use the Nations League to get us back to where we want to be."