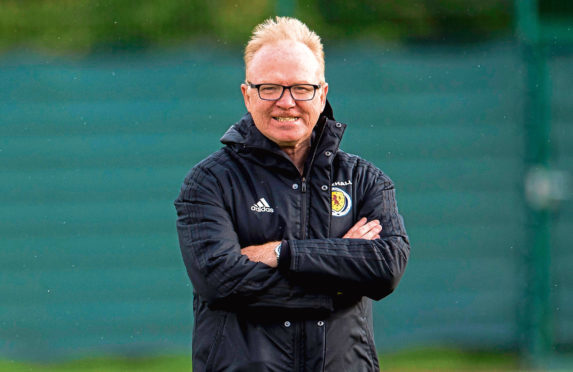 Alex McLeish has been in the game long enough to know it is seldom smooth sailing.
The decades of experience gained as a player and manager ensures McLeish, who is in his second spell in charge of the Scottish national team, does not need reminding the pressure is on as he prepares for two games which could well define his tenure.
Quite simply, victories against Albania and Israel in the two UEFA Nations League matches are a must. Anything else and, well, McLeish knows the script there too.
When asked about his future in charge of the national team should Scotland fail to win their group McLeish said: That's not something I want to discuss and I'm not even thinking about that.
"I learn lessons every time we don't get the right result and even when you do get the right result. I'm resilient, I've been in the game for 42 years at high pressure level and I feel I can bounce back.
"There is always pressure there and football is a highly popular game. Being at the top of the tree, even the great Jose Mourinho admitted recently he felt the pressure, but it is something you use to empower yourself and make yourself better and I feel I've done that all my career.
"The minimum requirement is to be top of this group and it is something I believe we are capable of and is achievable."
It is fair to say the next two matches will be McLeish's time of need and with injuries robbing him of Steven Naismith and Leigh Griffiths, and possibly Charlie Mulgrew and Kevin McDonald, despite the inclusion of the latter two yesterday, the Scotland boss has recalled Steven Fletcher in the hope of bringing some much-needed experience, and goals to the side.
To put it in context Fletcher's nine goals for his country brings the contribution of the entire squad to a paltry total of 16.
McLeish, however, remains optimistic about both the Sheffield Wednesday forward and the squad.
He said: "I spoke to Steven this morning and he was keen to join up. He's in good form after being out a long time and we were conscious of the fact he needed more games at the start of the season but he has done that.
"When we had the call-offs we had no hesitation in calling him up.
"He has brilliant experience, is a brilliant centre-forward and it is good news for the nation. We have young players like Oli McBurnie coming through and they can learn off him too.
"Right away the first thing I said was "would you like to play for Scotland again?" and he said he always wants to play for his country. These guys all want to do Scotland proud and the goal over the next two games is to do that.
"We're looking at battle-hardened guys who we can trust to get the results we need with this squad.
"The performance against Albania and some of the performances against the world class teams we've played, we have to take confidence from that. But taking forward what we saw I the Albania game, and I've an idea of what I want to do, and we have to make sure the players can deliver."
On Mulgrew and McDonald, McLeish added: "Charlie is not cleared yet, he is not fit to play yet, but we should know that by the weekend.
Kevin McDonald also had a small issue as well and we understand he is having treatment this afternoon. We hear he should be okay but we don't know.
"Injuries are frustrating and we've not got the guys here so we have to empower the players who are in the squad."
McLeish, who insists he remains on good terms with Celtic striker Griffiths despite his decision to withdraw from the squad last month to work on his fitness prior to suffering an injury, was reluctant to discuss the future of Fulham's Tom Cairney, who was again omitted from the squad as he ponders whether to commit himself to Scotland or England.