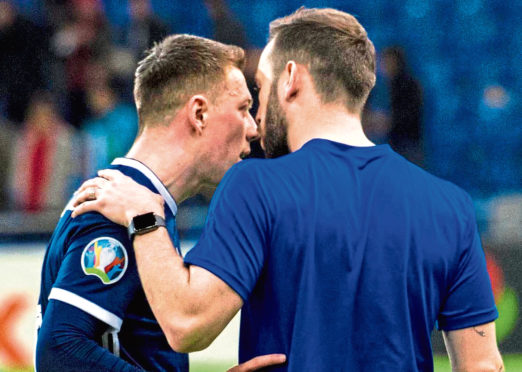 Scotland midfielder Callum McGregor dismissed suggestions of a bust-up with coach James McFadden in the wake of last night's disastrous defeat.
Reports shortly after the game indicated McGregor and McFadden clashed as emotions ran high following the chastening loss.
Celtic player McGregor insists he was only attempting to retrieve midfielder Scott McTominay, who made straight for the tunnel at full-time, for an address to the 650-strong Tartan Army.
McGregor said: "It was just frustration, it was nothing personal. I didn't even shout to James. One of the boys had gone in early and I wanted us all to go over and clap the fans.
"As captain I felt we should go to the fans who had spent a lot of money to come here and support the nation.
"I thought we should get everyone together to say thank-you for coming. It was nothing to do with James, I was just trying to get everyone together to go to the fans.
"I just saw him run in and I was trying to get everyone together. It's important we show everyone we're still together as a nation and that we're going to try and put this right."
McGregor could not hide his disappointment at how his first outing as national team skipper unfolded, having stood in for the sidelined Andy Robertson in his 10th cap for Scotland.
The 25-year-old added: "It shows you how quickly things can change in football.
"On Wednesday I was buzzing, getting the chance to captain my country with everybody sending text messages through.
"To go to such a low with the performance and result, it just shows you how cruel football can be sometimes.
"You just try to steady the game and try to get us back into it.
"There is not much else you can do, other than try to rally the boys to try to make chances."