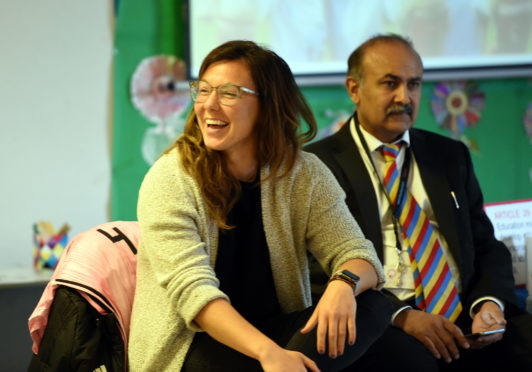 Last week's whistle-stop tour of Aberdeen barely gave Rachel Corsie chance to draw breath.
Time back home is scant for the Scotland captain, who resides in Salt Lake City and is about to lead her country into its biggest international tournament.
But schoolchildren at Ashley Road, Dyce, Westhill and her own secondary school, Hazelhead Academy, had reason to thank her, taking hours out of her limited availability to share her story.
As she puts it, this is "her community". She feels an obligation to give back something she did not receive: inspiration from a role model.
"It's something you need to embrace when there's responsibilities placed on you as captain of the national team and as a senior player," she said.
"I've been in that environment now for 10 years with the A squad. You learn to enjoy it and embrace it. The biggest thing I've learned is there's no amount of encouragement will be wasted or too much. The more we can capture and help feel either part of the game or introduced to the game, it's rewarding for me and I hope it's rewarding for the kids.
"It can be overwhelming. I went to Hazelhead Academy last week and there's still teachers there that taught me. For me, I wanted to give something back. I'm a home person and I don't get much time here.
"For whatever reason I hate sitting at home, so I've been running round seeing as many people as I can. It's my community, it's where I grew up. I hope no one would ever feel they grew up here and didn't have the opportunities, because they are there.
"It's a bit nostalgic, walking down memory lane. I really like coming home; I don't spend much time here so when I do, I try see as many people as possible. It's rewarding to come out to the schools and make yourself visible, so the next generation can see what's out there and see what's possible. Women's football is in a good place right now and we need to capitalise on that.
"My family is all still here and there's a lot of people who have given up a lot of time over the years to give me the pathway I'm fortunate to have. It's great to be back and to appreciate all those people – for a lot of them it was volunteer work, to enable me to be as fortunate as I have been. It's nice to reach out to them to let them know they've played their part and are still important to me."
Her football infancy began with her father, kicking a ball around in Hazelhead Park. As she got older her brother replaced her father as the de-facto goalkeeper, while the life-long Dons fan began to carve her own route into football. Stonehaven and Aberdeen Ladies gave her a foot on the ladder, while academic pursuits saw her qualify as a chartered accountant at Robert Gordon University.
The professional dream was not realised until Corsie was 24, when she ended a five-year stint at Glasgow City for Notts County. Scotland had already become a big part of her life by then and as she prepares for the biggest tournament of her career, France provides a fitting symmetry to her football career.
She said: "I remember John Collins' penalty against Brazil and that's about it. I was nine and I remember watching at my friend Robert's house. We used to play football in the park and that's probably my earliest memory of playing. It's something that's quite incredible to know that we're going to a World Cup. It's impossible to know how it's going to feel. Did I think that was possible for me? Absolutely not.
"That's one of the biggest things that makes me want to come out to schools. That just wasn't in the realms of possibility based on what I had exposure to. If I can be here and just reach one eight or nine-year-old, that's a good job done to me.
"That can be someone who goes on to achieve something far greater than me but they've had the ability from a young age to make that something they can do. I probably realised too late – I didn't turn professional until I was 24."
Incredible occasion!

Thank you to everyone for turning up and making it a memorable and fantastic night.
Very proud to be Scottish ????????

Special shout out to @JudyMurray & @NicolaSturgeon ? https://t.co/OhgycUYsXV

— Rachel Corsie (@RachelCorsie14) May 28, 2019
Amid the maelstrom of public visits, media duties and actually preparing for a World Cup, perspective is difficult to grasp on to. But underpinning it all is a passion for the game she loves.
"There were a lot of people that were influential to me. Sometimes it was volunteers, parents, friends; my great-grandfather played for Aberdeen so it maybe runs in the family. My mum is a huge Aberdeen fan and my dad played. Football has always been part of my life.
"It offers that refuge from the day-to-day grind. Now it's my job and there are different burdens attached to it, but the bottom line is it's something I absolutely love to do. It's a privileged position to be in, that it's something you absolutely love doing and wake up for every single day."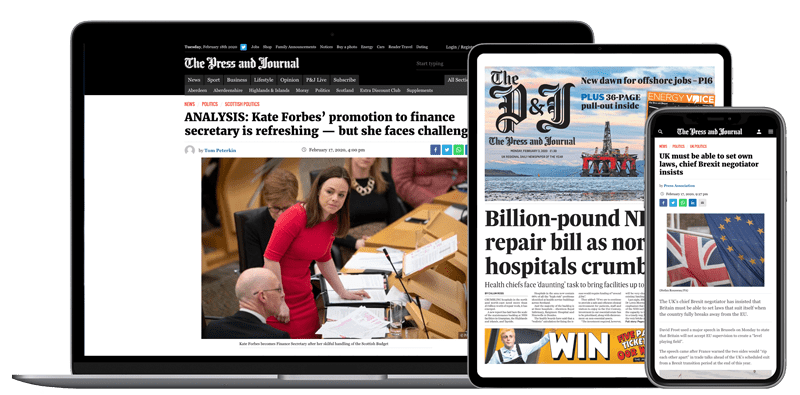 Help support quality local journalism … become a digital subscriber to The Press and Journal
For as little as £5.99 a month you can access all of our content, including Premium articles.
Subscribe