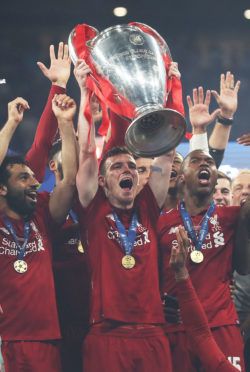 Andy Robertson is the first to acknowledge Scottish winners of the Champions League do not come around often.
Becoming the first to do so in 22 years will only add to the overarching pride felt by the Liverpool defender when he leads out his country against Cyprus tonight, in his first outing since his stunning triumph in Madrid seven days ago.
It promises to be a poignant moment for left back Robertson, at the scene of where his remarkable revival began as a Queen's Park player following his release by boyhood club Celtic.
The achievement puts Robertson among illustrious company and none more so than Lisbon Lions skipper Billy McNeill, who became the first British captain to lift the European Cup with the Hoops in 1967.
With McNeill having died earlier this year following a battle with dementia, Robertson says getting Scottish hands on the greatest club prize in world football carries all the more significance.
Robertson said: "It is very rare – that is what you start to realise. Maybe more so this year than last year. A lot has been said up in Scotland because of Billy McNeill's passing, the person who lifted it for the first time being Scottish. It has been an emotional time for people up here to see him go, and Stevie Chalmers as well.
"That was in the back of my mind, that if I got the chance to get my hands on that trophy. The picture of Billy is so iconic, obviously it is outside Parkhead and it is everywhere. My picture won't go as big as his, but it was still a special moment to get my hands on the trophy he lifted.
"I came across him a couple of times. I didn't know him but what he did was incredible, and to get my hands on the same trophy he did was special."
Robertson says the full extent of the triumph, which came thanks to a 2-0 victory over Tottenham, may take time to fully realise, with the 25-year-old adding: "I've had quite a few quiet moments but I don't know when it will sink in. I know I'm a Champions League winner and what we achieved was incredible and certainly that's sunk in.
"Whether everything else that comes with it will sink in I'm not so sure but it's been an incredible week and one that I'll never forget and I'll remember it for a very long time.
"I can talk about it when I retire but right now I'm focused on trying to create new memories now."
The club triumph has made Robertson all the more determined to lead a successful reign under new Scots manager Steve Clarke, starting with tonight's European Qualifying visit of Cyprus.
He added: "I want more of those feelings that I had on Saturday. I want that success at club level more with Liverpool. It is not just we have won the big cup and let's all pack it in now. I want to win more trophies. I want to win more trophies for Liverpool and bring success to Scotland.
"We've got a new start now and we need to qualify for the Euros because that would be as special I feel. It does make me more determined. Having those happy feelings, those success feelings, I want to have that a lot more and I am sure all the lads want to experience it now."