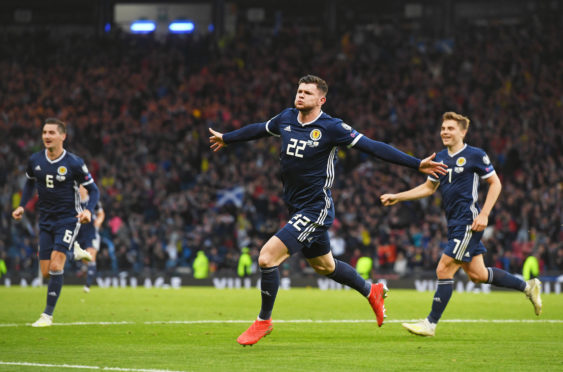 After Steve Clarke spoke with such conviction about the positivity surrounding the Scotland camp, that optimism came perilously close to being destroyed.
But the Scots' stubborn reaction to the setback of losing their lead three minutes from time – in the form of Oli Burke's winner just 60 seconds later – marked a spirited start to Clarke's reign, even if it was too close for comfort
Skipper Andy Robertson had given Scotland the lead in 61 minutes but it looked like another sob story for the Dark Blues when Ioannis Kousoulos equalised in 87 minutes.
The 31,277 crowd would undoubtedly have preferred a more resounding victory.
The quality in Scotland's pool has never been in question, but the consistency of performance has all too often been absent.
Clarke was quick to highlight the abundance of players who came into this game in buoyant mood, with John McGinn and Kenny McLean arriving on the back of promotion to the English Premier League and a cluster of Celtic players fresh from winning the triple treble.
Most notable of course was Champions League winner Robertson, who led his country by example and came up with a stunning opening goal. There is clearly room for improvement in many areas of this Scottish performance but Robertson's outstanding intervention was merely a taster of the potential.
Previous boss Alex McLeish was beset by call-offs for the horror show in Kazakhstan and the side which went down 3-0 was visibly youthful and bereft of experience on the international stage.
The inclusion of seasoned campaigners David Marshall and Charlie Mulgrew for the visit of Cyprus, following lengthy international hiatuses, could be taken as a sign Clarke values the significance of experience in his side.
While Scott Bain and John Souttar may provide the long-term solutions, making too many changes too quickly is fraught with risk, which ultimately backfired for Clarke's predecessor.
The one exception to this is Eamonn Brophy, who was handed the responsibility of leading the line for his country on his international bow.
There was emphasis on using wingers James Forrest and Ryan Fraser. Fraser in particular linked up menacingly with Robertson, but Kilmarnock forward Brophy was starved of service.
His only sniff of a breakthrough arrived from a set-piece as he nodded John McGinn's corner wide. The expectation is for Manchester United's Scott McTominay to fill the role of holding midfielder in the years to come, but he was overlooked in place of Kenny McLean.
McLean's adventurous range of passing from a deep-lying position was a valuable asset.
While many of the key components were evident in the build-up, Scotland showed a distinct lack of cutting edge. Clarke did not appear concerned by the issue. Given some of the tidy play he will be confident further perseverance can produce potency.
Normally so reserved, Clarke's visible elation in celebrating both goals highlighted the emotional significance of this result in his maiden outing.
That he has already negotiated an escape from the sort of hiccup the Scots have become all too accustomed to is encouraging.