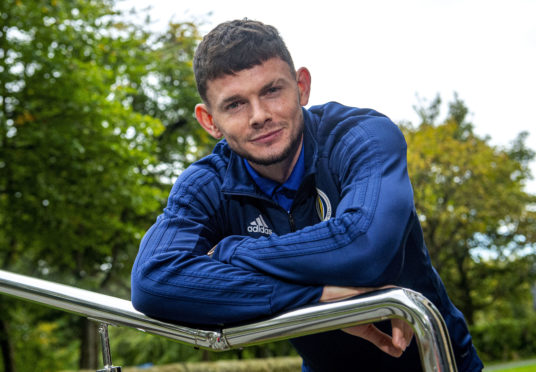 Oli Burke feels his move to Spanish club Alaves can help him regain his lost momentum with the Scotland national team.
Burke's first international goal got Steve Clarke's reign as Scotland manager off to a winning start over Cyprus in June, before he won his eighth cap in the 3-0 loss to Belgium three days later.
Burke's lack of game time at club level caused him to miss out last month's home double header against Russia and Belgium, but is now back in Clarke's squad after forcing his way into the Alaves side following his loan move from West Bromwich Albion.
With fellow attacker Oli McBurnie dropping out of the squad, Burke hopes to play his part in games against Russia and San Marino this week, and he said: "The main reason why I wasn't in the last squad was because I hadn't been playing football.
"I totally understand and respect that. A player that's not playing is clearly not ready for the national team.
"Now I'm very happy to playing and back in the set up. Everything's going really well for me just now.
"Previously I had scored in the Cyprus game and I felt it was really going well in the international set up. But these things happen, other players were playing and they deserved to be in over me, because they were playing more minutes.
"It wasn't something that massively hurt but it made me think I needed to play football, because I need to be able to help the team now.
"Every game I want to go in and give everything I have got, prove a point and make sure I'm in his thoughts for the next camp. If I am not playing, it is difficult."
Although he is still just 22, Burke's move to Spain is already his second switch overseas following his £13 million transfer to German club RB Leipzig in 2016.
After playing four games, Burke is encouraged by his start with the La Liga outfit, adding: "I'm really enjoying it, we've started off really well and I feel really comfortable there.
"The team is good and have made me feel really welcome and I'm playing football which is the main thing.
"It was sort of last minute really. There were some options, but this one popped out and was of the most interest really. They were very keen and I was very keen for another adventure.
"It doesn't really faze me moving to another country – because I've already done it it's a lot easier."
Although Scotland's hopes of qualifying for next summer's European Championships realistically rest with next March's play-offs, Burke feels the Scots can use the remaining four Group I qualifiers to lift the mood.
He added: "These games are so important. Obviously, it has been difficult so far, and we have a lot to produce.
"We just have to go into these games and I think we have to win.
"Everybody knows the pressures, we just have to go out there and prove everyone wrong and do everything we can to win the games.
"We have to stay positive. We have to go out there, train hard, and build a chemistry between us to go into these games with confidence."